Uptown Automotive Hobby Shop
Formerly the Biggest Little New and Used Car Showroom in Central New York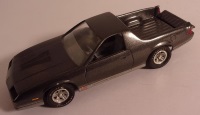 Home of the original El Camaro


Uptown Update 2/7/2019

At long last we will be gradually implementing a long overdue update of this site. Please be patient, and check back periodically as it will be a work in progress for some time to come.

After thirty five years, we closed our shop in October 2014. We are still available by email. We are not getting out of the hobby; just out of the store. Resin products listed on our site will be available from Jeff Ballard, of Motor City Resin Casters, part of the Detroit Resin Automotive Group. The first items available will be the HD3500 cab, and the step van. Other items will follow as time permits, and will be added to Motor City's existing resin product line.