We borrowed that term from the record industry, where it referred to a singer or a group that had one song that made it onto the charts, then were never able to follow that song with another, and consequently were never heard of again.
Here are some promotional models which were not made by the "usual suspects", that is, the companies which at the time were well known producers of promotional scale models on an annual basis for the automobile industry.
In 1939, to compete against the various brands and price levels of General Motors, Ford introduced the Mercury. Initially intended to be called the Ford Mercury, and slotted between the well known Ford line and the upscale Lincoln line, which Ford had acquired in 1922.
The '39 Mercury model pictured here is just shy of 5 inches in length, made of metal, and is believed to have been a stamp dispenser. A roll of postage stamps could be inserted through the bottom, and fed through a slot in the cowl (since filled and painted over). I have also seen it labeled as a coin bank, but I'll go with the stamp dispenser. The one piece wheel & tire units are made of wood.
Though not 100% accurate as to what the actual first year Mercury looked like when it made its debut, this model is well detailed for its size, and may have preceded the actual vehicle which could account for the slight variations between the two. For example, the grille dips, like the '40 Merc., but the headlights are definitely '39. there are other variations, but in spite of them, I'm glad it exists.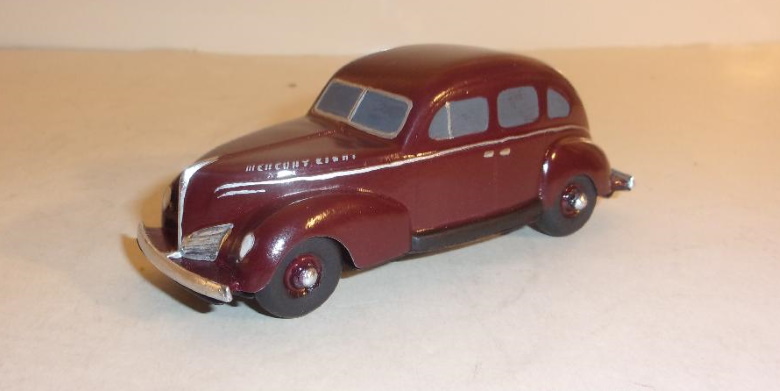 > Back to Top

---
---
Cruver Olds
Before the internet, the Cruver Olds would have been considered rare, and elusive. We may have heard of it, but likely had never seen one...and never thought we could afford one. With the modern computers and the advancing age of model car collectors, the Cruver Olds has come out of the shadows and into the light.
What is it? It is rare, but fortunately no longer made of unobtainium. The 1949 Oldsmobile Futuramic 98 was the top of the line offered by Oldsmobile in 1949, and it featured the company's first V8 engine, an overhead valve 303 cubic inch powerhouse, which replaced the venerable flathead straight eight of the previous decades.
So it is understandable that Oldsmobile would want to have a Promotional scale model of their newest car, but I don't know how the Cruver Manufacturing Company was chosen to make the model. What a model it was! Prior to 1949, promotional scale model vehicles had been made of pot metal, mostly by Banthrico. AMT came on the scene after WWII with an aluminum model, crude as it was, of the postwar Ford, then in '49 produced their first plastic model, the '49 Ford Fordor, with stamped metal grille.
Seemingly from out of nowhere, Cruver, an established company, but not in the area of scale model vehicles, made the '49 Olds and it blew the other model manufacturer's products out of the water. Not only was it made in the then new medium of plastic, but it had clear windows, and separate, plated (or vacuum metalized) "chrome" trim! The Pot metal models were one piece castings, with molded on bumpers and grilles, and solid windows. The plastic AMT models had shiny metal windows.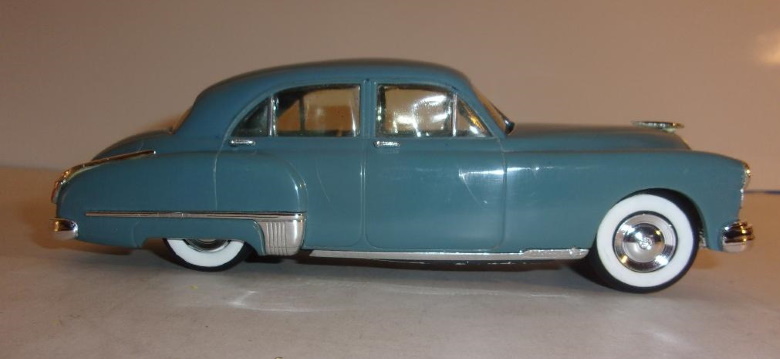 AMT plastic '49 Ford Cruver plastic '49 Olds Banthrico pot metal '49 DeSoto

> Back to Top

---
---
1963 Jeep Wagoneer
Of unknown manufacture is this H-O scale (approximately 2 inches long) cast pewter 1963 Jeep Wagoneer.
Purchased for $1.00 many years ago at a model show, it was unpainted pewter, and was said to have been given out at a dinner meeting of Jeep people (dealers?) when the Wagoneer was introduced. I was told that one of these little replicas was placed by each place setting at the table.
While Tonka made several metal toy replicas of Jeep vehicles, including the J-Series Wagoneer and trucks, as far as I know, this was the only accurate scale model of the then new Jeep wagon until several years later.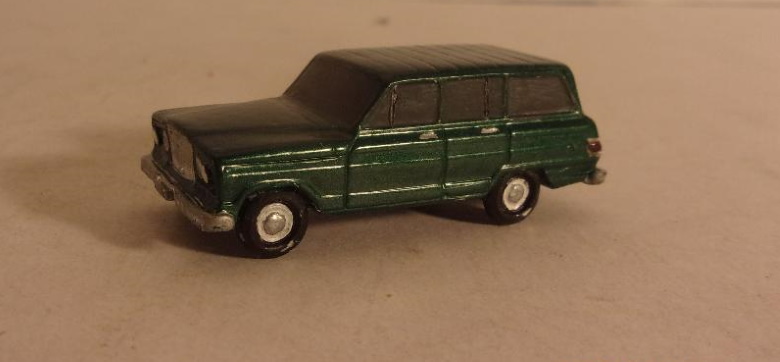 > Back to Top

---
---
1981 Mustang Cobra
The 1981 Mustang Cobra promo was a surprise, as was the manufacturer, Universal Marketing Company; they may have been universal, but had model car collectors ever heard of them before? Made in Hong Kong, the Mustang was molded in black plastic with green graphics, and black interior. Not the most attractive combination perhaps, but nonetheless a welcome addition to the plastic model car world. It also had a sun roof, and TRX wheels.
We were told that these new kids on the block had plans. If the Mustang sold well, they were going to do a Ford Escort, and two Chrysler K Cars. Unfortunately, the Mustang had two aspects which detracted from its overall appearance, and which consequently may have affected its sales...or lack of. That's pure speculation on my part. I don't claim to know the reason, but we never saw the other three proposed models.
The Mustang sat up too high; it looked like it was 4 wheel drive, and the wheels and tires stuck out well beyond the body. The example pictured here has been lowered, and the axles narrowed.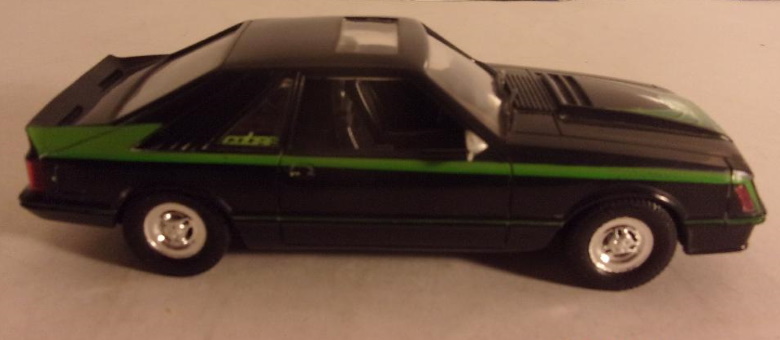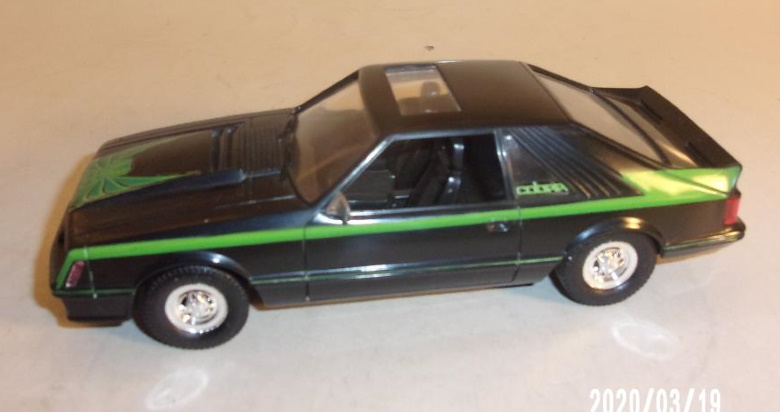 > Back to Top

---
---
Pewter Promotionals
Personally, I don't understand the reason for, or the fascination with, the medium of pewter for scale model vehicles, and in particular, promotional scale models. Though pewter is considered a precious metal, I believe that scale model vehicles would be more desirable in other materials with which we are more familiar, and which seem to allow better detail. Because of it's alleged status as a precious metal, pewter models often carry high prices. Again, my personal opinion, but I don't feel that the cost is justified, particularly since detail is often either lacking, or not as crisp as in other mediums.
In addition to the '63 Jeep Wagoneer model mentioned elsewhere in this section, which was not a well known or readily available model, let's consider some pewter promos from General Motors.
In 1975, for reasons beyond my comprehension, the Cadillac division of GM had pewter promotional models made of the then new Cadillac Seville. Okay, maybe the "precious metal" aspect of pewter appealed to Cadillac owners, who wouldn't necessarily cringe at the cost of such a scale model, but I suspect that the number of model car collectors who acquired these Seville models is very small.
Another potential issue besides the material was the scale the models were made in. While the industry standard had for decades been 1/25 actual size, the '75 Seville pewter models were made in the scale of 1/36. Odd as that seems, they were not the only promotional model cars to appear in that same scale. In 1987, again from Cadillac, came the Allante in a 1/36 scale pewter model. This was followed in 1988 by a Buick Reatta, in the same scale.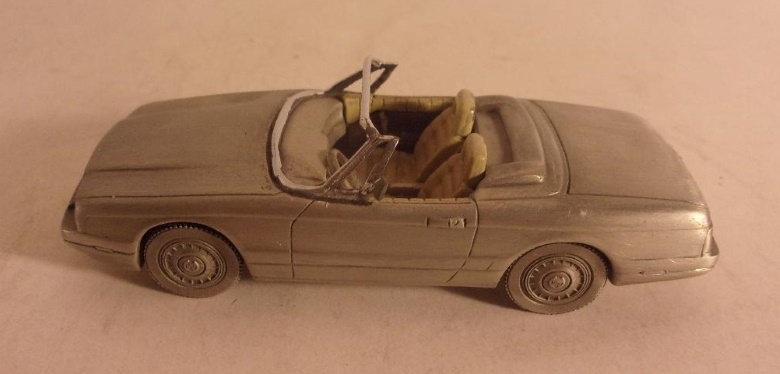 A few short years, later in 1991, GM contributed to their own bankruptcy by adding yet another car line to their repertoire when they foisted the Saturn upon the car buying public. They also offered promotional scale models of two Saturn models, again in pewter, and again in 1/36 scale. The suggested retail price for each was $89.95, and allegedly only 500 of each were made. Unfortunately, it is known that more than 500 were made. In my opinion, not only were they over priced, but they suffered miserably in detail. One thing that made Saturn four door sedans (and Oldsmobile clones) interesting was the wrap around back light, which is quite conspicuous in its absence in the pewter models.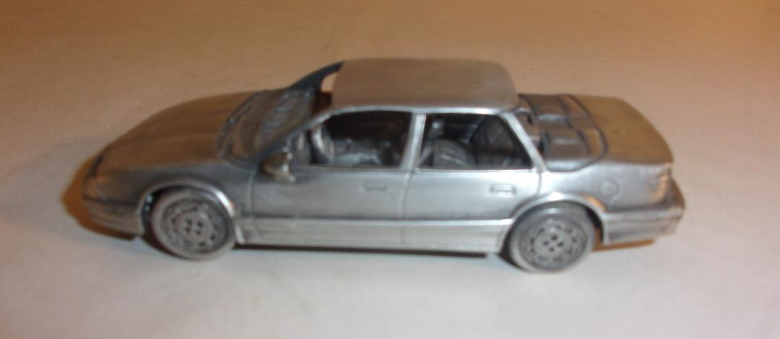 The pewter Saturn models do, again in my humble opinion, look much better when painted...which I guess negates any perceived advantage to them being pewter.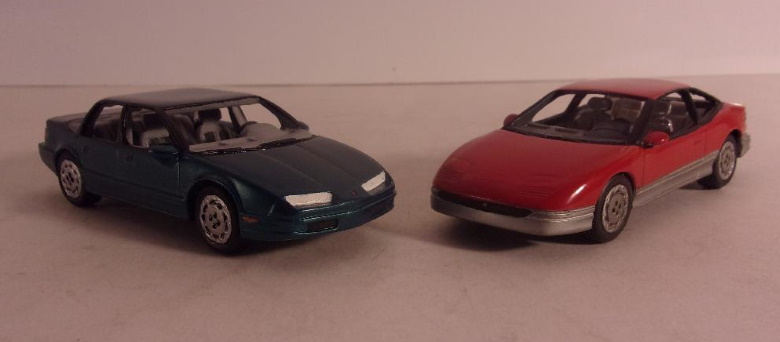 > Back to Top

---
---
1988 Buick Regal and Reatta Coupe
1988 Buick, 1/24 scale, Regal and Reatta coupe by Product Dynamics Ltd., a company in Pennsylvania, which, prior to these Buicks I had not heard of, either in relation to promotional scale model cars, nor anything else for that matter.
Neither the models, nor their colorful packages, mention the name of the company that made them, so they were somewhat of a mystery, or at least a curiosity, when they were released. I don't recall seeing or hearing any advance press on these models before they appeared. I will say that they were welcome surprises in the era of only Camaro and Corvette promotional models being made.
The packages do not label the models as a specific year, and though they are most commonly considered 1988s, they are often listed as 1988 or 1989. The Regal is molded in a maroon metallic, with black A and B pillars, and a red interior, while the Reatta is a solid red, with a tan interior. (The regal pictured here has been repainted).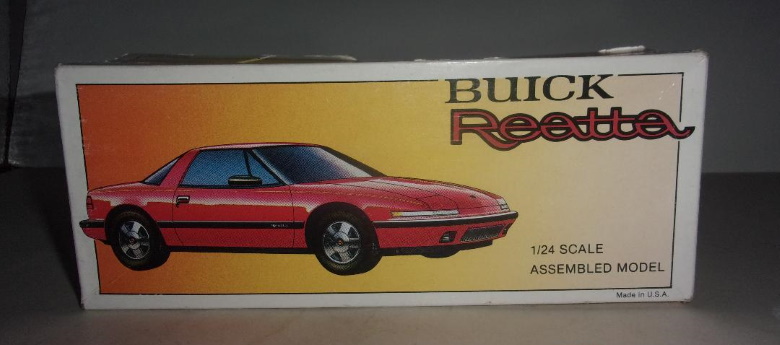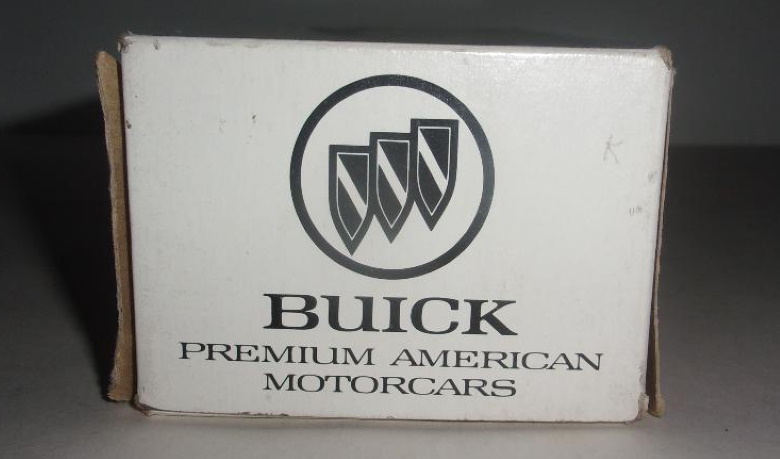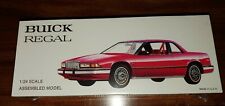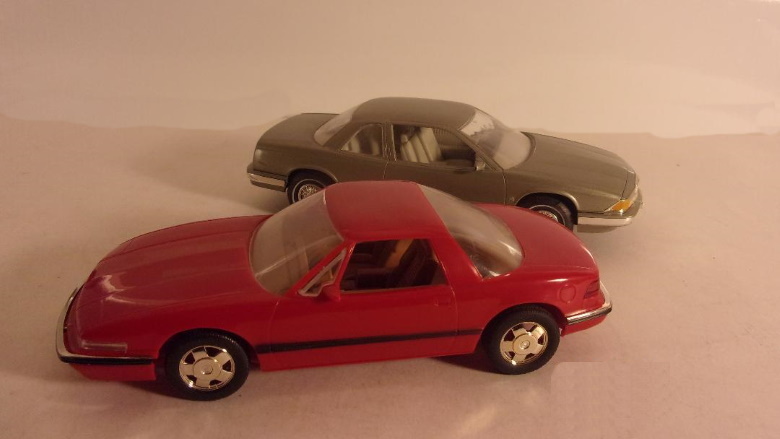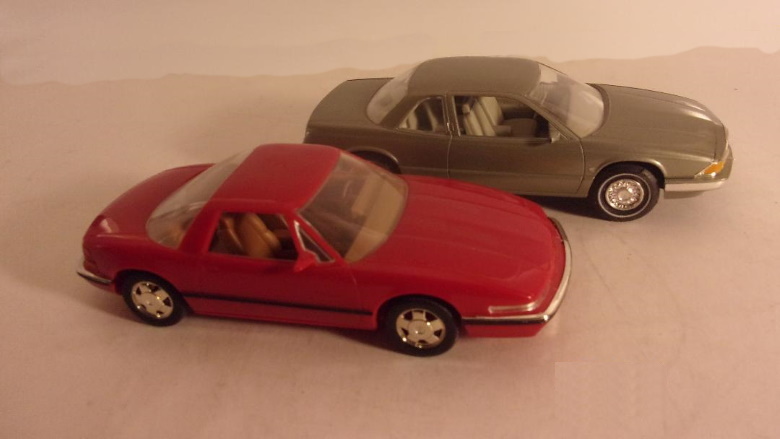 > Back to Top

---
---
One That Almost Was
One fact that remains a mystery to me is why the pot metal promotional models, even within the same automotive manufacturer's product line, were made in so many different scales. National Products made Buick promos, some in various scales "around" 1/32, up to and including 1950. Apparently, no 1951 Buick model was made, but for '52 and '53 Banthrico offered Buicks closer to (but slightly smaller than) 1/25 scale, which by then had become the industry standard.
The 1950 Buick Super pictured in the group photos is a plaster cast (partial) copy of a pot metal original, in the scale of approximately 1/33. The pot metal model was a decent replica of the '50 Buick...and the only one I had been aware of.
Several years ago, at the Old Town Escorts model car show in Chicago, I happened upon a 1950 Buick resin body, with separate chrome bumpers and grille...in 1/25 scale. It was a Mil Buck model,being offered by the late Bill Buckingham, who was a well known model car collector. Eventually I learned it was joint endeavor of Mr. Buckingham and Dean Milano, hence the name Mil Buck. Dean Milano should be familiar to long time readers of the former Scale Auto Enthusiast Magazine, as he was a prolific and proficient replica stock model builder, who replicated many unusual vehicles of which there were no commercially produced models. Several of his conversions were featured in Scale Auto in the 1980s. Some may remember that for a time Dean also operated a toy museum. Unfortunately museums require steady income to continue operating. Unfortunately I didn't get to see the museum before it had to close, but it was most interesting to read about it and see the photos in a magazine article.
Bill Buckingham, in addition to his vast model car collection, apparently had some connection to Banthrico Models, whether he was employed by them at some point, or "knew people", or perhaps both. The actual details are unknown to me, however, what I was told was that the 1/25 scale '50 Buick model being discussed here is a copy of one which was developed and considered for production by Banthrico, but never produced.
The one which Banthrico did produce was the smaller scale one mentioned previously. Naturally I had to purchase the 1/25 scale Buick kit and build it.


Rear: Resin cast copy of original 1939 pot metal Buick promotional scale model
Left center: Plaster cast (partial) copy of original 1950 promotional pot metal Buick scale model
Right center: Repainted original 1949 Buick pot metal promotional scale model
Front: Plaster cast copy of original 1946-48 Buick pot metal promotional scale model


(L) Original 1952 undergoing alteration/restoration; (R) Original 1949 repainted


(L) 1950 Resin '50 Buick Super built Mil Buck model; (R) 1949 pot metal Buick Super repainted promo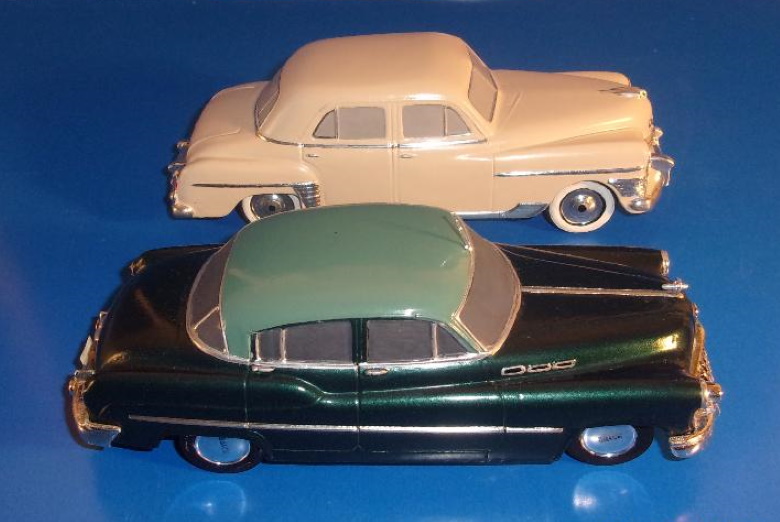 Foreground: MilBuck resin 1/25 scale 1950 Buick resin model built kit
Background: Banthrico pot metal 1/25 scale 1950 Chrysler repainted promotional model

---