In Memoriam

Contents:
♦ Thomas King Mills - TKM Models
♦ Jon D. Fague - Master Modeler

-NEW-


♦ Ron Merkel - Merkel Model Car Company

---
Our Hobby Has Lost Another Pioneer.
In February of 2021, Thomas King Mills, at the age of 75, succumbed to a heart ailment. Tom was TKM Models, an early "cottage industry" producer of unique hand made 1/25 scale model cars, which he then hand cast and offered for sale as kits. His kits were simple, but challenging in that they required patience and labor to finish into respectable models, yet they could and often did become very attractive replicas of vehicles, which were otherwise unavailable from any other source in any scale. Though TKM models may not have been "state of the art", they were an alternative, and welcomed by many who appreciated the cars they represented. Tom himself was very talented, very personable, very good to work with, ...and he will be missed.
TKM '50 Chrysler Town & Country TKM '56 Packard 400

Jim Amado
July 2021
---
---
Jon D. Fague left us unexpectadly on April 4, 2019, at the age of 67. "Jon D.", as I called him, was a multi talented builder, known for imaginative and creative customs and rods, as well as his paint finishes and often unique colors and patterns. Though in recent years he seemed to favor rat rods, he could and did build a variety of antique, classic, custom, stock, race, rods, or commercial vehicles, as well as whimsical phantoms. Often he would win awards in multiple classes at model shows. Always experimenting, always learning, always improving, he pushed the envelope with techniques employed, and materials used; he was an innovator. In addition to being an experienced master modeler, Jon was also often a vendor at car and model car shows. More significantly, he was a friend, to me, and to countless others in the hobby.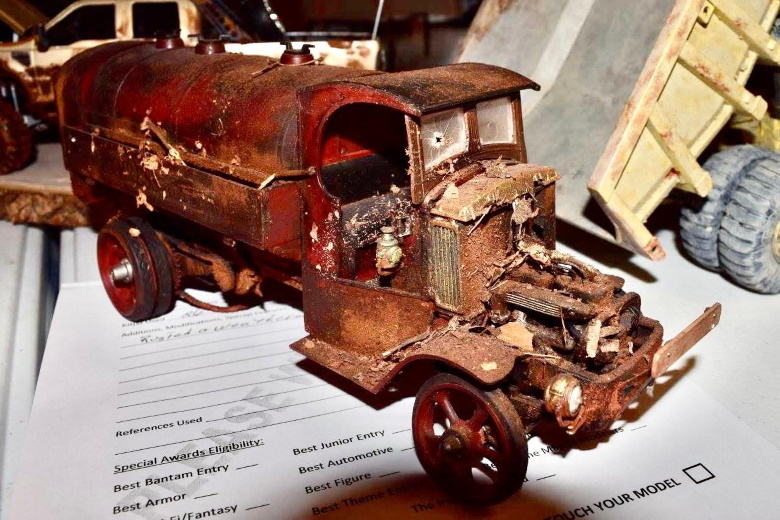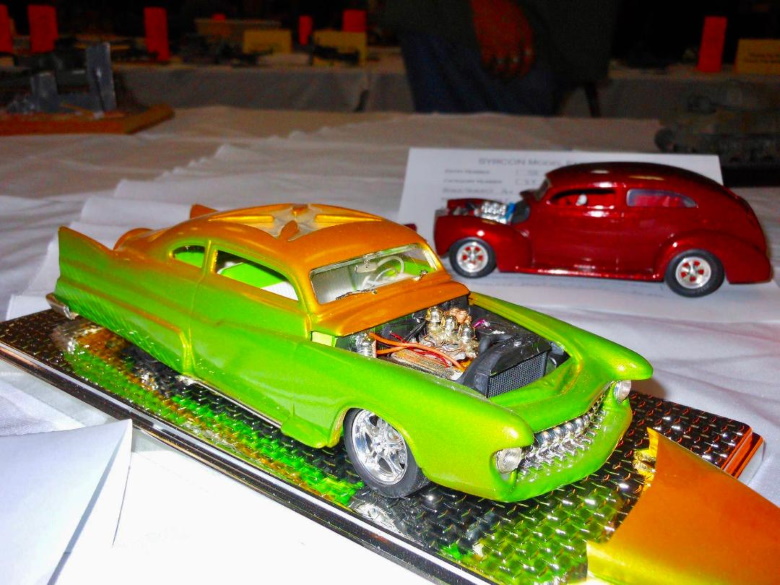 photos courtesy of John Papp
Jim Amado
August 2021
---
---
In the first issue of Scale Auto Enthusiast magazine, back in 1979, that was the title of Ron Merkel's column. Prior to that, Ron had written for Model Car Journal. He was around, and in the hobby, long before that. He began building model cars in the mid fifties, when his dad took him to purchase one of the 1/32 scale Revell '55 Buick kits. How fitting that his final years were spent in the employ of Revell.
Cancer took Ron from us in June of 2011. Ironically, in his final months, in between treatments, he again built some of those early Revell car kits. Not because he was working for the model company, but because he now had skill and patience which he may have lacked as a child. He had recently completed the '55 Mercury 4 door sedan, and was working on a 1/48 scale Kenworth tractor trailer. This one frustrated him. Certainly it was not beyond his ability; on the contrary, it was because parts "disappeared". Ron speculated that, as he told me: "the driver must have jumped off of the the table, and walked out of the room". He had his sense of humor 'til the end. As Ron's health worsened, I suspect the Kenworth was not completed. Yet I thought it was great that he had his hobby to distract him from his illness, and also the "coincidence" (was it?) that he had gone back to his beginning, as it were, as he was nearing his end. Ron claimed to be "not very religious", but this made me wonder…
Ron was involved in the hobby in a big way, for a long time. He and a friend, the late Tom Lima, Jr., formed a model car club which they called The Old Town Escorts. Together they put on the largest model car displays Chicago had ever seen. Initially at the Chicago Auto Show, an annual event which showcased all the new cars from U.S. and foreign auto manufacturers, then at their own model car shows, where vendors, hobbyist, and collectors came from all over the country.
For many years Ron was a fixture at the Chicago Auto Show, where he sold models, then eventually he bought a trailer and went on the road. The saying that: "Behind every successful man, there is a woman" certainly applied to Ron. Somewhere along the way he met Vicky and they became not only husband and wife, but some time thereafter, "The Merkel Model Car Company". In addition to raising two sons, Ron and Vicky worked side by side in the trailer – their mobile store. After several years of traveling to car shows around the country, Ron opened a "brick and mortar"store in a Chicago suburb, and Vicky got a job, not surprisingly, at a model company.
Ron and I became friends many years ago. I knew him long before I met him. I know that seems odd, but it's true. I don't remember how it began, probably I saw an ad? We corresponded for years, two model car nuts sharing a hobby via long distance. Then in 1970, while in the Air Force, I met and became friends with a gentleman who was from Chicago. When I returned from overseas, I stopped in Chicago on my way home, to visit my buddy, meet his family, and, since I was there, I called Ron and we met face to face...for the first time.
A few years after my discharge from the service, I opened my model shop, and began going to Chicago to attend the Old Town Escorts car show on Saturday, and their model car show on Sunday. Ron and I had kept in touch ever since.
At "Lead East", in New Jersey, possibly in 1984? I was a vendor and I saw a young boy carrying a model car kit under his arm. I asked him where he had acquired it. "There's a guy in a trailer selling models on the other side". So I wandered over there, and saw the Merkel model Car Company in operation. In the evening I went back there and Ron and I shared pizza and visited for a few hours.
That was the beginning of a "tradition". Thereafter, any time I was in Chicago, not only would we visit, but we'd also enjoy pizza together.
Ron and I would speak with each other over the telephone from our respective shops, and discuss the hobby, our individual shops, family (he was justifiably proud of his sons), our vehicles and their maladies, and any other aspect of life which was deemed appropriate at the time. Sometimes we'd help each other by exchanging models which one or the other of us needed to fill a customer's request. And always we joked and laughed.
The hobby changed, and Ron eventually closed his shop and was hired by Revell. I always wondered why it took so long for them to realize that Ron was a wealth of knowledge and experience, and would be a valuable asset to a model car company. Apparently, somehow they had – eventually – come to the same conclusion, however.
While Ron was at Revell our conversations were kept brief for obvious reasons, but we still spoke somewhat regularly when either of us had a question, or suggestion, for the other. Then one day the conversation veered away from models, as Ron's health began to take a turn for the worse. Topics were usually health related in conversations after that, and yet, there was always humor and optimism from Ron...until he became too worn out to speak. Our conversations, and Ron's time, grew shorter.
I had hoped to see him once more, but it was not meant to be. Ron was called away to a more urgent meeting. Vicky lost her husband, her sons lost their father, we in the model car hobby lost a knowledgeable, valuable, asset and ally, and I lost a good friend.
Jim Amado
July 2020
---
---