---
---
Things You Should Know
---
---
February 2021
Deceit Is In The Eye Of The Beholder
I have long maintained that box art can either make or break the sale of a model kit. Some of us have walked away and not purchased a kit because of the box art; others of us have purchased a kit and been disappointed upon opening the box. Misrepresentations, in my opinion, are inexcusable. There is enough reference material available that it should be no problem to provide an accurate depiction of the vehicle that the model within the box represents.
The most recent model box I take issue with is the 2020 Atlantis (model company) re-release of the former Revell 1/48 scale 1955 Chevrolet 2 ton stake truck. Were I unaware of happenings within the model industry, and had I seen the model on a store shelf, I may have immediately been drawn to it, and considered purchasing the kit. At first glance, not only a new company, but possibly a new kit? Why might one have thought that? Because the illustration on the cover misrepresents the model within the box! Depicted on the cover is a'55 Chevy LCF (low cab forward) truck which, as the name implies, has its cab moved forward, in order to accommodate a longer, thus larger capacity, cargo bed on the same length chassis.
However, the model kit is actually the same conventional cab Chevy model that Revell produced in 1955, and a few more times since then. Note the illustrations of the trucks in the accompanying photos. The green (Revell) illustration shows the cab with the door lines parallel to each other, opening behind the fenders, and the engine hood is lower and longer than the blue (Atlantis) illustration. The Atlantis cab doors are arched at the front edge to (give the erroneous appearance of) opening around the rear of the fender, and an LCF would (correctly) appear to have a taller hood, because it is shorter than a Conventional truck's hood; but the model is not an LCF.
Again, if one were not aware that the Revell kit has been reissued by Atlantis, the misleading box art may cause one to presume that it is a new model kit, representing a truck which had not previously been available in scale form...until or unless one looked at the accurate depiction on the side of the box.
Interestingly, the new Atlantis model employs the same kit number as the original Revell kit: # H-1401. In spite of its misleading box cover illustration, '50s era "technology", and multi piece body, it's a nice kit, and a good representation of the '55 Chevrolet conventional 6409, two ton stake truck.
Jim Amado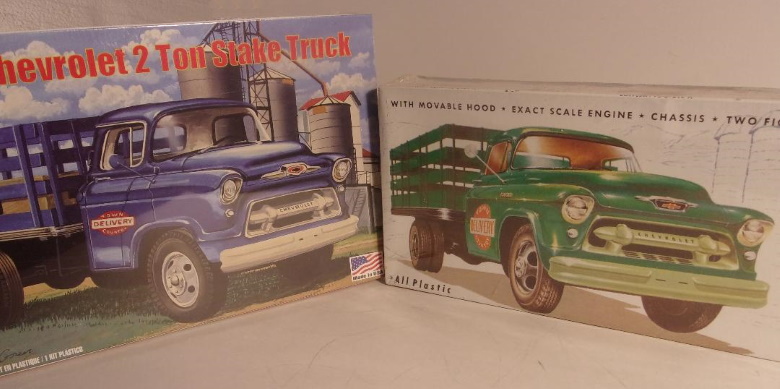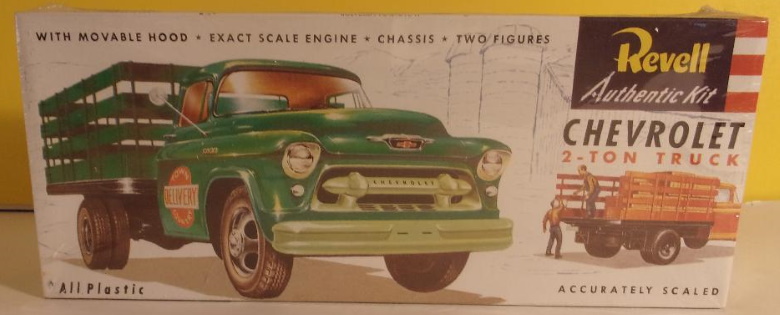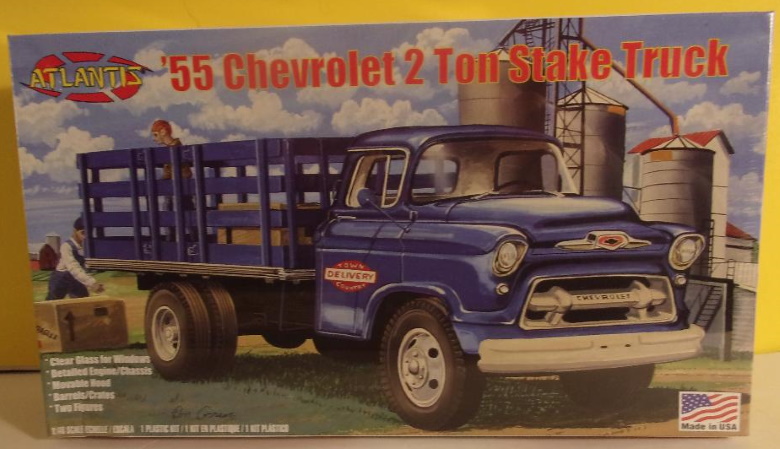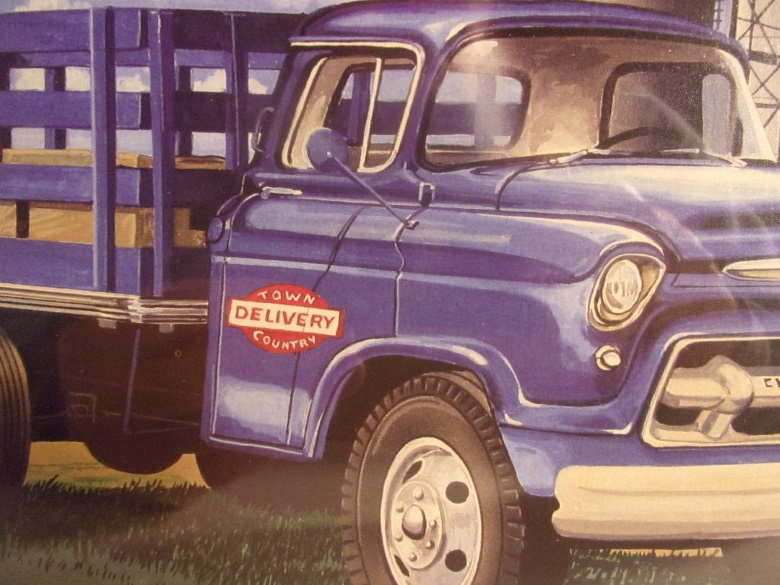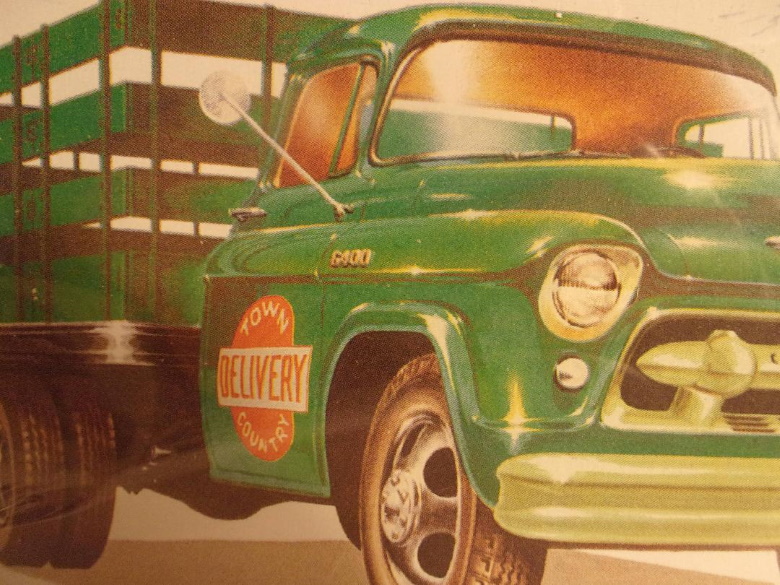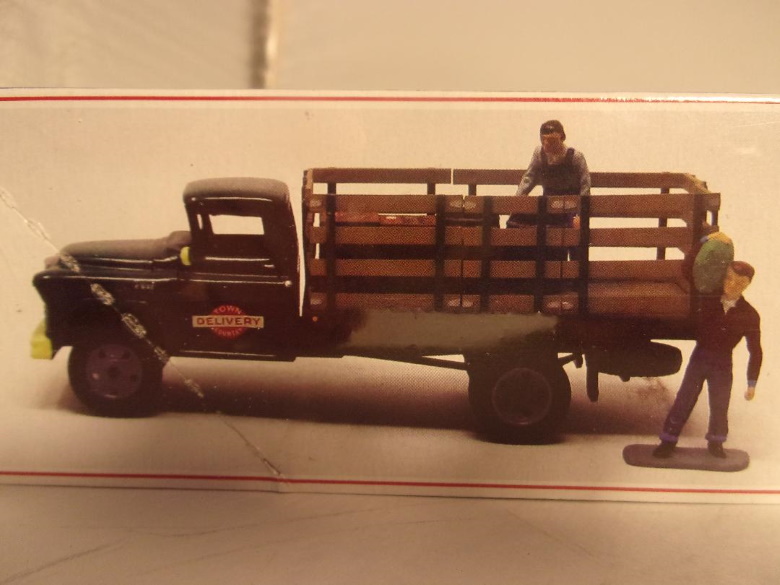 ---
---
August 2020
Scale Auto Drives Off
Printed magazines continue to cease production as more of them become available on line or on electronic devices. Kalmbach Publishing has recently announced that the final issue of Scale Auto Magazine will be the August 2020 issue. Kalmbach offers assurance that model car fans will soon find a section for them included in Fine Scale Modeler Magazine.
Presumably, since it covers various types of modeling, there is hope that Fine Scale Modeler itself may endure for some time, though the duration, like the future, is unknown.
Uptown Automotive has a vast inventory of back issues of several automotive model magazines. Send us your wants.
Jim Amado
---
---


July 2020
Running On
In the first issue of Scale Auto Enthusiast magazine, back in 1979, that was the title of Ron Merkel's column. Prior to that, Ron had written for Model Car Journal. He was around, and in the hobby, long before that. He began building model cars in the mid fifties, when his dad took him to purchase one of the 1/32 scale Revell '55 Buick kits. How fitting that his final years were spent in the employ of Revell.
Cancer took Ron from us in June of 2011. Ironically, in his final months, in between treatments, he again built some of those early Revell car kits. Not because he was working for the model company, but because he now had skill and patience which he may have lacked as a child. He had recently completed the '55 Mercury 4 door sedan, and was working on a 1/48 scale Kenworth tractor trailer. This one frustrated him. Certainly it was not beyond his ability; on the contrary, it was because parts "disappeared". Ron speculated that, as he told me: "the driver must have jumped off of the the table, and walked out of the room". He had his sense of humor 'til the end. As Ron's health worsened, I suspect the Kenworth was not completed. Yet I thought it was great that he had his hobby to distract him from his illness, and also the "coincidence" (was it?) that he had gone back to his beginning, as it were, as he was nearing his end. Ron claimed to be "not very religious", but this made me wonder…
Ron was involved in the hobby in a big way, for a long time. He and a friend, the late Tom Lima, Jr., formed a model car club which they called The Old Town Escorts. Together they put on the largest model car displays Chicago had ever seen. Initially at the Chicago Auto Show, an annual event which showcased all the new cars from U.S. and foreign auto manufacturers, then at their own model car shows, where vendors, hobbyist, and collectors came from all over the country.
For many years Ron was a fixture at the Chicago Auto Show, where he sold models, then eventually he bought a trailer and went on the road. The saying that: "Behind every successful man, there is a woman" certainly applied to Ron. Somewhere along the way he met Vicky and they became not only husband and wife, but some time thereafter, "The Merkel Model Car Company". In addition to raising two sons, Ron and Vicky worked side by side in the trailer – their mobile store. After several years of traveling to car shows around the country, Ron opened a "brick and mortar"store in a Chicago suburb, and Vicky got a job, not surprisingly, at a model company.
Ron and I became friends many years ago. I knew him long before I met him. I know that seems odd, but it's true. I don't remember how it began, probably I saw an ad? We corresponded for years, two model car nuts sharing a hobby via long distance. Then in 1970, while in the Air Force, I met and became friends with a gentleman who was from Chicago. When I returned from overseas, I stopped in Chicago on my way home, to visit my buddy, meet his family, and, since I was there, I called Ron and we met face to face...for the first time.
A few years after my discharge from the service, I opened my model shop, and began going to Chicago to attend the Old Town Escorts car show on Saturday, and their model car show on Sunday. Ron and I had kept in touch ever since.
At "Lead East", in New Jersey, possibly in 1984? I was a vendor and I saw a young boy carrying a model car kit under his arm. I asked him where he had acquired it. "There's a guy in a trailer selling models on the other side". So I wandered over there, and saw the Merkel model Car Company in operation. In the evening I went back there and Ron and I shared pizza and visited for a few hours.
That was the beginning of a "tradition". Thereafter, any time I was in Chicago, not only would we visit, but we'd also enjoy pizza together.
Ron and I would speak with each other over the telephone from our respective shops, and discuss the hobby, our individual shops, family (he was justifiably proud of his sons), our vehicles and their maladies, and any other aspect of life which was deemed appropriate at the time. Sometimes we'd help each other by exchanging models which one or the other of us needed to fill a customer's request. And always we joked and laughed.
The hobby changed, and Ron eventually closed his shop and was hired by Revell. I always wondered why it took so long for them to realize that Ron was a wealth of knowledge and experience, and would be a valuable asset to a model car company. Apparently, somehow they had – eventually – come to the same conclusion, however.
While Ron was at Revell our conversations were kept brief for obvious reasons, but we still spoke somewhat regularly when either of us had a question, or suggestion, for the other. Then one day the conversation veered away from models, as Ron's health began to take a turn for the worse. Topics were usually health related in conversations after that, and yet, there was always humor and optimism from Ron...until he became too worn out to speak. Our conversations, and Ron's time, grew shorter.
I had hoped to see him once more, but it was not meant to be. Ron was called away to a more urgent meeting. Vicky lost her husband, her sons lost their father, we in the model car hobby lost a knowledgeable, valuable, asset and ally, and I lost a good friend.

Jim Amado
---
---
July 2020
Now available, resin three piece tailgate conversion kit, to replace double doors on Revell '66 Chevy Suburban kit. Includes inner and outer panels.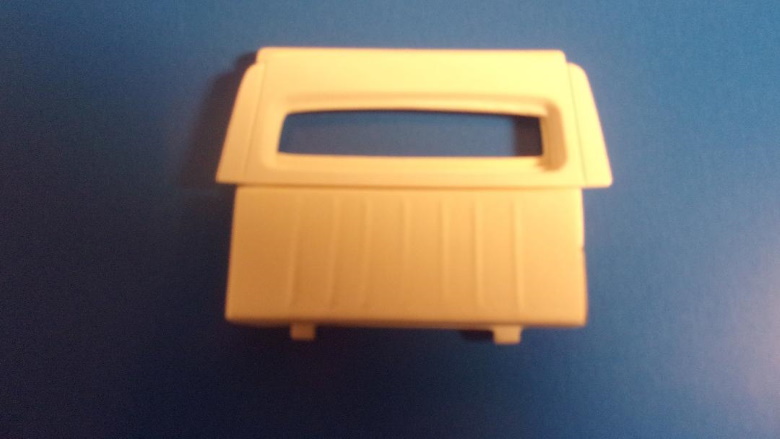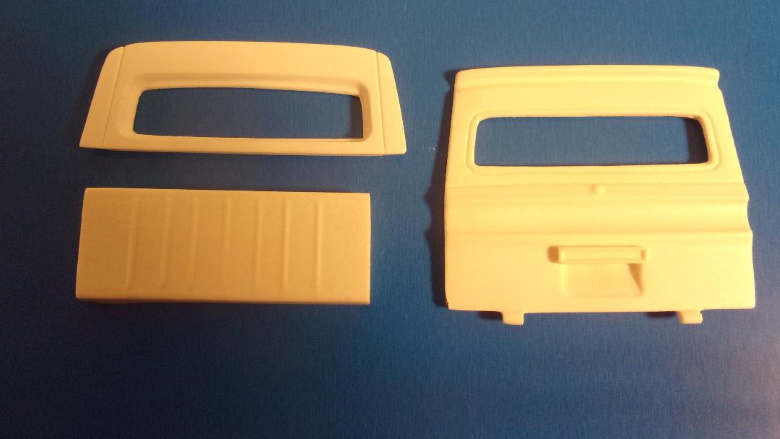 Mastered by Jim Amado, refined by Joe Shaffer, cast by Joe Koonrad, marketed by J and J Resins. Find them on Facebook.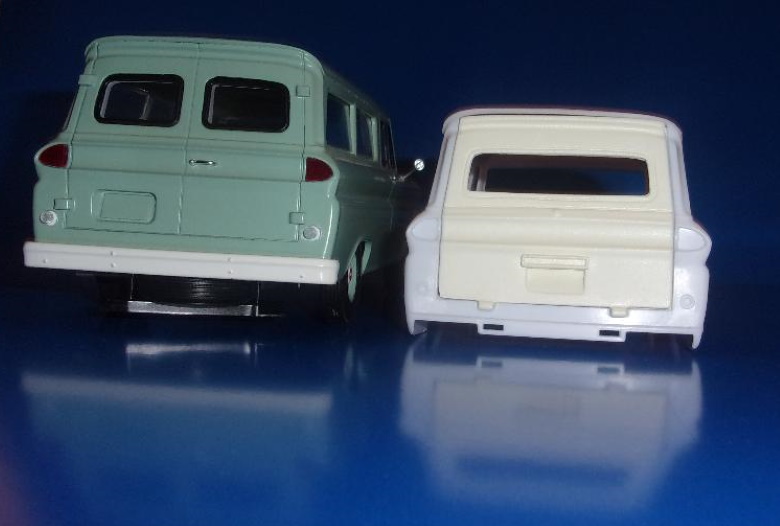 ---
---
April 2019
The "new" MPC '78 Dodge pickup from Round 2 is available. It is touted as "first time released". That's a qualified statement. MPC did offer a '78 Dodge pickup kit in 1978. Then, kit # 7809 was a long wheelbase sweptline 100 Power Wagon. Yep, it was four wheel drive. It also had Adventurer exterior trim on the body: a thin chrome strip just below the belt line, and a wider chrome band above the rocker panels, which would have had a black insert, or on some models faux wood grain.

The "new" 2019 issued '78 pickup is also a long wheelbase sweptline, but it's a two wheel drive stripper. If you remember the MPC Dodge pulling truck, "Thunders Truck", with the exhaust stacks sticking through the hood? It had a long wheelbase, sweptline body, with plain sides - no chrome. The new '78 kit apparently uses the same body. In addition, Round 2 has included open steel wheels with chrome hub caps - not full wheel covers, and - for some reason - thin line whitewall tires. The engine is a big block V8. The annual '78 kit included an off road motorcycle. The new kit includes a mini bike. Decal sheet includes lawn service, and motorcycle repair, among other items. Nice kit! Good job, Round 2! A superfluous part included in the new 2 wheel drive kit is the 4 wheel drive transfer case; always good to have extra parts

Also, in a repeat performance, the '60 Chevrolet short wheelbase Custom Fleetside pickup from Round 2 under the AMT label. Includes venerable six cylinder engine, and a go kart. Another nice kit. Optional free useless information: The 2019 issue of this pickup, like its prior release, has the small back window cab. The 1960 annual kit, a long wheelbase fleetside Apache, had the large back light.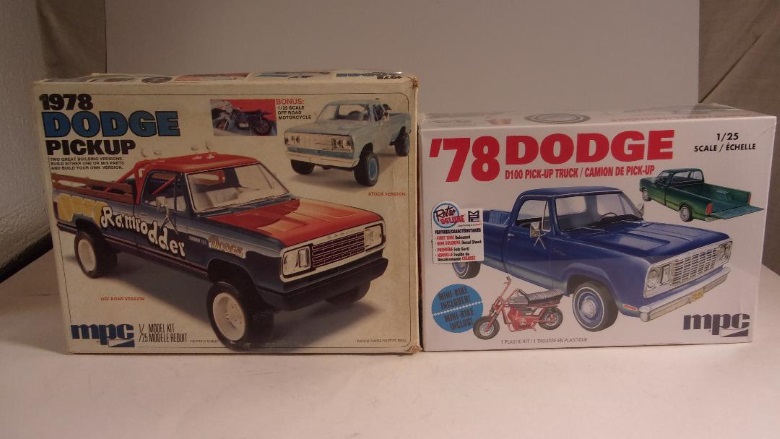 Jim Amado
---
---
(Breaking news!) December 2018
BEWARE of the newly released Revell Cadillac Escalade! Don't be fooled; it is not a new kit! The box cover photo depicts the Esclade ESV (Suburban size), while the box side depicts the Esclade SUV (Tahoe size). The kit is a reissue of the previously released Escalade SUV. NOT the longer ESV, as the misleading box art would have us believe.
Jim Amado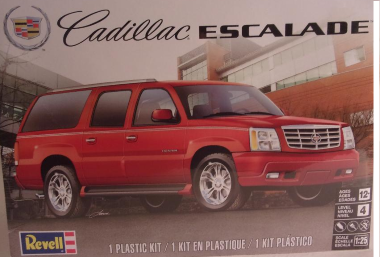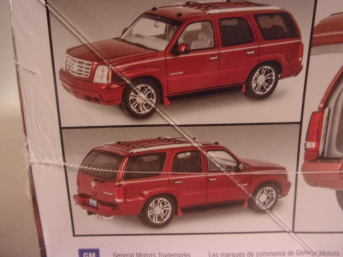 ---
---
Annual Spring Thaw Model Show
Scale Model Vehicle Display - Judged Contest - Vendors
Offering new and old model kits, aftermarket parts, detail accessories

Located in Utica, NY, the geographical center of New York State (check your map), the show is the work of
four young gentlemen, each of whom is a talented model builder specializing in trucks (though fully capable of other types of vehicles also).

Check it out on Facebook: Spring Thaw Scale Model Show
The show's website: http://daveski25.Wix.com/springthawmodelshow
---
---
Know Your Terms
The term "scale" has become commonly misused, though we all have come to recognize it as describing the approximate size of a particular model car or truck. In the eary '50s, model kits were described more accurately in fractions such as "3/8 inch scale" (which we now call 1/32), "3/4 inch scale" ( 1/16), "1/2 inch scale" (1/24), etc. The fractions we now use to describe a model are easier to understand. For example, 1/24 means one inch on the model equals twenty four inches on the actual vehicle. Thus a 1/2" scale model would be one twenty fourth (1/24) the size of the actual vehicle.
Jim Amado
---
---
Chrome Spears?
The Monogram '59 Cadillac El Dorado Biarritz and El Dorado Seville kits, and the Gunze Sangyo 1/32 '59 El Dorado kits have chrome taillight spears. This is inaccurate. The only 1959 Cadillac which had the chrome spears was the Fleetwood Sixty Special. To assemble the scale model El Dorado kits correctly, the chrome should be stripped, and the spears painted the same color as the body.
Jim Amado
---
---
Large or Small?
Revell's '56 Ford pickup, in it's first release, kit #H1283, issued in 1962, had the small rear window in the cab. Later releases, such as kit #7384, issued in 1983, had the large back window.
Jim Amado
---
---
Stake Bed
Several, but not all, issues of the AMT, and later Lindberg, '34 Ford pickup kits included a stake bed option. Interestingly, Ford did not offer this option until 1936 when disc wheels, stronger than the earlier wire wheels, became standard. However, the parts included in the '34 pickup kits reasonably represent the 6 1/2 foot stake bed option offered from Ford from 1936 up through 1956! Thus, conversion possibilities exist for the Monogram '50, AMT '53, and Revell '56 Ford Pickup kits. Obviously the stake bed could be used on other makes as well.
Jim Amado
---
---
Mysterious
Pot Metal scale model Jeep forward control trucks have long been somewhat mysterious. Some of the mystery no doubt caused - or contributed to - inaccurate information. The FC 170 stake truck model was often listed as 1/20. Measuring the model's wheelbase, however, one finds that particular dimension to be closer to 1/23. The FC 170 pickup, commonly said to be 1/25, is more accurately 1/28.
Jim Amado
---
---
Liquid Chrome
When a distributor told me that they tested a product that simulates chrome, and that it was "amazing", I doubted.
How many times in decades of modeling had I heard of similar products? I requested a sample. No sample. So I ordered one and paid for it. I tried it. It works! I BELIEVE! It's called Liquid Chrome, and is similar to a felt tip paint marker, comes in either of three tip sizes, is easy to use, and looks great when it dries.
I tried it on plastic, resin, and pot metal. It works! Far superior to silver paint, less aggravating and tedious than Bare Metal Foil, and unlike All Clad, requires no undercoat nor buffing. I recommend this product, not because I sell it, but because I use it...and it works!
Jim Amado


---
---
Vehicle Nomenclature
Body styles of vehicles were given names which reflected their intended usage. Auto manufacturers also gave names to the various vehicles within their product ranges. Somewhere along the line, our society has deteriorated into a "close enough is good enough", or "whatever" attitude regarding many things, and wrong information is disseminated routinely even by "experts" who should know better. Why?
How difficult is it, especially in this age of the computer where all sorts of information is available literally at one's fingertips, to determine the correct name for a vehicle's body style, or a specific model of a given make?
One would logically presume that a car magazine, a model car magazine, or an author therein, and/or a company producing scale model vehicles, would be knowledgeable about the subject matter which they are presenting, and both know and use the correct nomenclature for that subject.
Revell has recently rereleased their '53/'54 Chevrolet sedan delivery model kit. Why do they mislabel it as a "panel"? Certainly they know better! A panel truck is truck based, and has double loading doors at the rear. A sedan delivery is passenger car based and, with few exceptions, has a single loading door. Examples of panel trucks are Revell's '37 Ford, kit #4930 (and prior releases), and the '55 Ford which had been done in various guises under the Monogram label. Examples of sedan deliveries are the '31 Ford, formerly done by Revell, and the '39 Chevy, formerly done under the Monogram label. So, it's not like Revell is unfamiliar with both body types; which makes it all the more confusing as to why they couldn't or didn't call the newly released model by its correct name.



Some who write about real cars are also guilty of misnomers, which again is unnecessary and irritating. To them I say: "Know your subject matter! Do your homework!" we who read magazines do so not only for entertainment, but also to gain or enhance knowledge. Fords, for example, are often mislabeled in articles. It's really not that difficult to follow Ford's nomenclature lineage; especially if the author is writing about Fords, a reader would presume said author to be knowledgeable about Fords, and know the facts he or she is relating.

Herewith is an attempt to clarify some Ford facts. Beginning in 1951, Ford called their two door hardtops "Victorias". In 1954 they offered a two door hardtop with a plexiglas roof section over the front seat; this was called a "Skyliner". Ford convertibles were called "Sunliners". In 1955 Ford offered the Victoria (two door hardtop), a "Crown Victoria" which, though not a true hardtop, had a chrome B pillar, and targa bar, or tiara, which went over the roof and connected to the B pillar on the other side. A third offering was the Crown Victoria with the Plexiglas roof option; this was called a Crown Victoria Skyliner. All three versions were also offered in 1956, as well as the Sunliner convertible, and a new body style: a four door hardtop. The four door hardtop was called a Town Victoria.

In 1957 the Plexiglas roof option was no longer offered, yet the Skyliner name was continued, now being applied to the then new retractable hardtop. So the '57 line included two and four door Victorias, a Sunliner convertible, and a Skyliner retractable hardtop.

The Skyliner, with its folding steel roof, was continued into 1958 and 1959. In 1959 there were also two models of fixed roof two door hardtops in the Ford line. The Fairlane 500 had a thin C pillar, and the later released Galaxie (first year for that name) had a "formal roof", with a more squared C pillar, like that of the then current Thunderbird. Interestingly, the Skyliner had used that similar C pillar since its inception in 1957.

In 1960 the retractable hardtop, and the Skyliner name, were gone. Ford two door hardtops had a new thin pillar design, and were called "Starliners" (a name which Studebaker had used in 1953), while the four door hardtops retained the Thunderbird roof line. Convertibles were still called Sunliners.

In '61 a "formal roof" Galaxie two door hardtop, called a Club Victoria, shared the roof line of the four door Town Victoria, and both were joined by a thin pillar two door hardtop, similar to the '60 Starliner, and carrying the same name.

For 1962 the only two door hardtop roof was the squared T-Bird style, which was found to be less than ideal for NASCAR competition, so Ford went into their bag of tricks, and pulled out a fiberglass lift off hardtop which could be attached to their convertible bodies. This roof line was virtually identical to the '60 & '61 Starliners, and was called the "Starlifter option". Ingenious, but soon declared illegal by NASCAR.

Free useless information: The U.S. Air Force had a cargo plane, the C-141, which was also called a Starlifter. Probably capable of carrying the entire starting grid of NASCAR cars…
Jim Amado
---
---
Black Widow? Which One?
There were two model car kits with the same name, which may be confusing.
The first "Black Widow" was actually the second. That is, the original Monogram scale model of a modified Model T Ford hot rod (which would be called a street rod now), and which was made in the early 1960s, predated the Revell scale model of the '57 Chevy 150 Utility Sedan, which was released in 2009.
The real 1957 Chevrolet 150 Utility Sedan made, not surprisingly, in 1957, was the entry level, or least costly model in the Chevrolet line up that year. It was a vehicle descended from the business coupe , which as the name implies, was intended for businessmen and salesmen to transport sample cases, or whatever tools and/or work related items they used in their craft. In my youth, a great uncle who was a building contractor drove a '57 150 Utility Sedan, with a thrifty six cylinder engine under the hood, and his tools behind the front seat.
In '57 Chevy also offered optional engines up to and including the fuel injected Corvette 283 V8. A 150 so equipped would likely have been intended for racing, and could have included other competition options such as six lug Chevy truck wheels on beefed up axles. Some of the racing 150s were painted black and white, and thus were referred to as "black widows", due to their "lethal" nature. These could have been said to have been equipped "strictly for business" of another kind.
Interestingly, the Monogram Black Widow scale model kit did not replicate an actual vehicle, but was representative of a type of actual vehicle. It was one of a series of three "hot rods" (street rods) which Monogram offered. The others were another Ford "T", called the "Green Hornet", and a '32 Ford coupe.
Ironically, within the first decade of the new millennium, a gentleman had an actual vehicle constructed to duplicate the Monogram scale model "Black Widow". In 2010 the Monogram Black Widow model kit was once again released in nostalgic Monogram box art, reminiscent of the original, but now issued by Revell (they and Monogram having become one company several years ago).
See Model Cars magazine, issue #155, December 2010, for an in depth article on both the new actual vehicle, and the new scale model.
Jim Amado
---
---
How To Know AMXactly What You're Looking At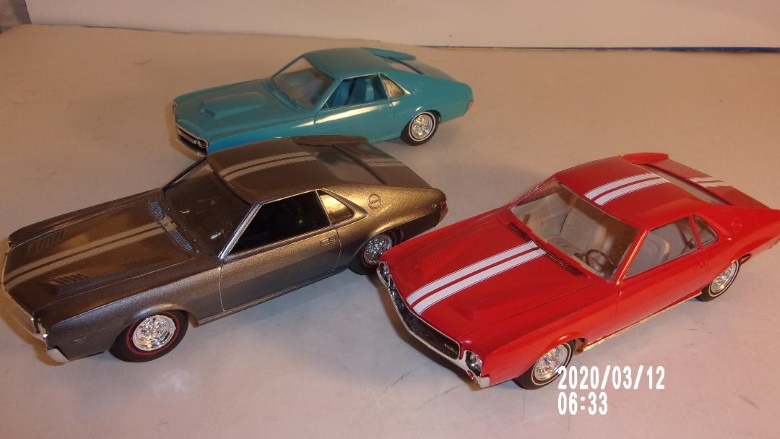 The American Motors two passenger coupe, known as the AMX, was modeled by four different model companies back in the day…sort of.
Actually, it was made by only three model companies, but marketed by four. When the car was first introduced in mid 1968, AMT offered a scale model kit in 1/25 scale, and MPC offered a kit in 1/20 scale. Interestingly, however, AMT did not produce the 1/25 scale model . JoHan did. It was felt that AMT was the better known company, so it was marketed by them. The AMT kit number was 2568. According to some sources, JoHan also made promotional models for the AMC dealers in 1968, with and without friction motors.
JoHan made the '69 in 1/25 scale, again marketed by AMT, under kit #T294. Promotional models were also offered by JoHan, for the AMC dealers. The '69 AMX has been reissued by JoHan numerous times. In a kit, as one of their "USA Oldies" series, and as the "Drag-on Lady" Shirley & H.L. Shahan Super Stock drag racing car (kit # C3069), and yet again as the same (drag)car inaccurately labeled as a "Pro Street" car. This last version was essentially the "Drag-on Lady" kit, without the decals; it lacked the Pro Street characteristic narrowed rear end, and tubbed rear wheel wells.
Revell, in 1/32 scale, kit # H1296, and AMT, in 1/43 scale, (various releases) also modeled the '69 AMX, but here our focus is on the larger scale renditions. MPC offered two kits of the '69 in 1/20 scale: kit #2002, was the stock version, and kit # 2004 was the "Yankee Clipper funny car drag version.
The '69 AMX has been recycled several times under the JoHan name as a "Promotional" model. The most recent releases were unfortunately inaccurate, in that they had 1970 interiors. Later releases of the drag car kit (#C3069) also included the incorrect interior.
For 1970, AMT kit # Y722 was a 1/25 scale AMX, and MPC kit # 3170 was a 1/20 scale kit. Promotional models of the '70 were done in 1/25 scale by JoHan.
Here's how to accurately identify each of the three years. Externally, the 68(1/2), and the '69 are identical; the exterior of the '70 differs in hood, grille, taillights, and rocker panel molding. The real key, however , is the seats. The '68 bucket seats had low backrests, the '69 had headrests, and the '70 had highback (integrated headrests) bucket seats. The upholstery pattern was also different in the 1970.
Unfortunately, though the name JoHan (actually a contraction of the name of the founder, John Hanley) remained, the company changed hands a few times in recent years, and things got a bit confused. The most recent releases of the AMX models, both the kits and the reissued promos, though intended and labeled as 1969s, had '70 interiors with the high back bucket seats, and incorrect (for '69) upholstery pattern.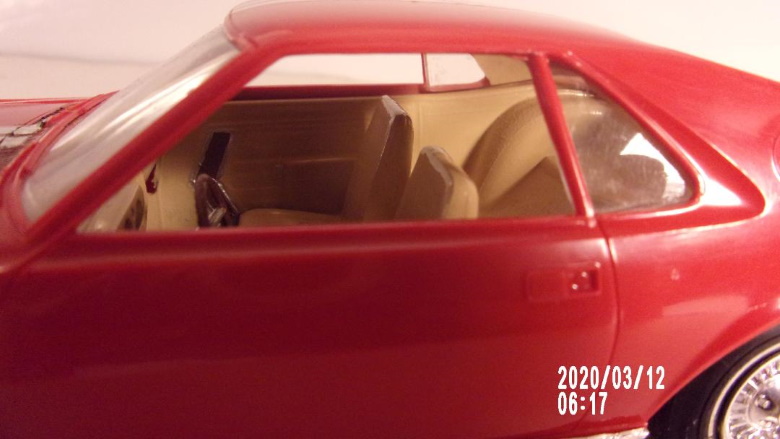 1968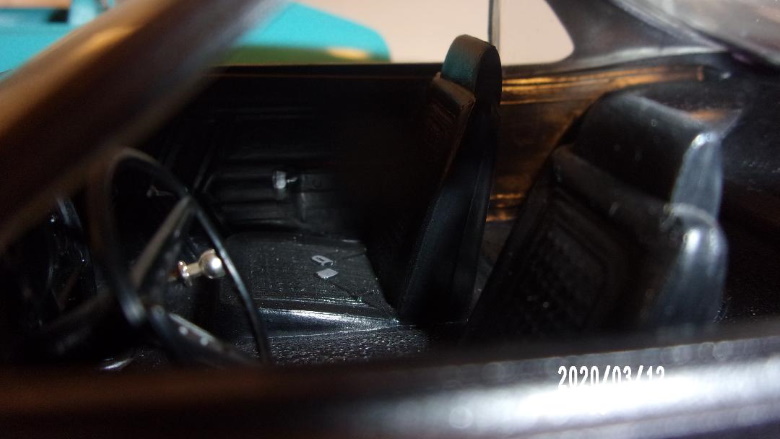 1969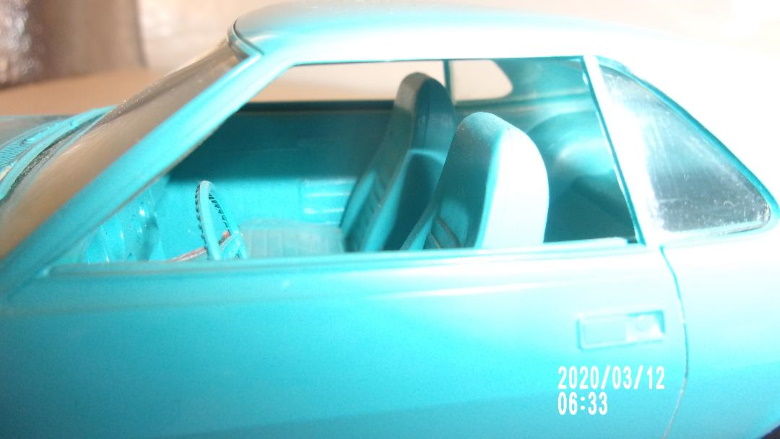 1970
page updated 2/23/2021