Things You Should Know
---
---
June 2023
The Same Thing...Only Different
A Tale of Two Talladegas
Often a model company will reissue a model kit that it had released previously. In many cases it's all the same parts and pieces, wrapped in updated box art, or in a "nostalgic" original issue appearance box. Conversely, in some instances the kit may have been altered by newer tooling, or may contain additional or different parts, such as more recent wheels, or decals.

  
Also somewhat common is that two different manufacturers may each offer a model kit of the same vehicle. Modelers may select a preferred kit based on brand loyalty, scale preference, parts offered,

building options, or any other factor including box art.

  
While most recognize that the Talladega was Ford's weapon in the NASCAR "Aero Wars", what follows are some facts that by now most may be aware of and /or familiar with, but for the few who may not, I present the 1969 Ford Torino Talladega "Twins". They are fraternal, and not identical, twins. In 1968, and again in 1969, AMT offered the Torino GT Sportsroof (fastback). Later AMT offered the '69 Torino Cobra. Then in 1990, AMT offered the 1969 Torino Talladega. Coincidentally, or perhaps intentionally, also in 1990, Monogram offered the 1969 Torino Talladega. There the similarity ends.

  
The most obvious difference, instinctively known to serious model builders is that AMT produced in a scale of 1/25 actual size, while Monogram produced in the scale of 1/24 actual size. There are those among us who prefer one size over the other and/or one brand over the other, so they may automatically purchase their preference without realizing the differences between the two Talladegas is more than just the scale in which they were produced.

  
The Monogram model, kit # 2912, represents the majority of the limited production Talladegas which Ford sold to the public. Those cars were offered in only three colors: Wimbledon white (as shown on the Monogram box cover), Royal Maroon, or Presidential Blue. Regardless of body color selected, all had black interiors, a bench seat in the front, and a column shifted C6 (automatic) transmission.

  
The AMT model, kit #6889, depicts a yellow car on the box cover, and shows a white, bucket seat interior. The box art depicts an accurate, but one of a kind, '69 Talladega which was specially built exclusively for the (then) president of the Ford Motor Company, Semon "Bunkie" Knudsen. Bunkie's car was the only '69 Talladega to be so equipped: Yellow exterior, white interior with bucket seats and console, yet retaining the column shift for the automatic transmission. NOTE that the AMT kit has a 4 speed manual transmission attached to the engine. Fine if one wants to build a NASCAR or muscle car street version, but inaccurate for "Bunkie's car" which the box art represents.
Thus, for any who may seek to do so, the two different models would allow the accurate assembly of legitimate variations, each with historical accuracy.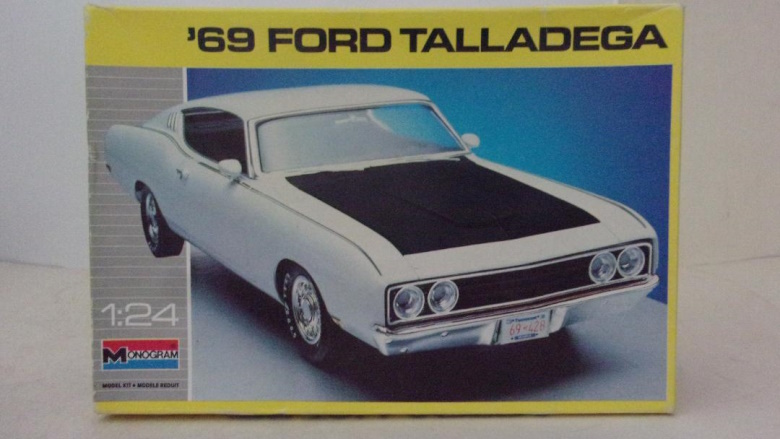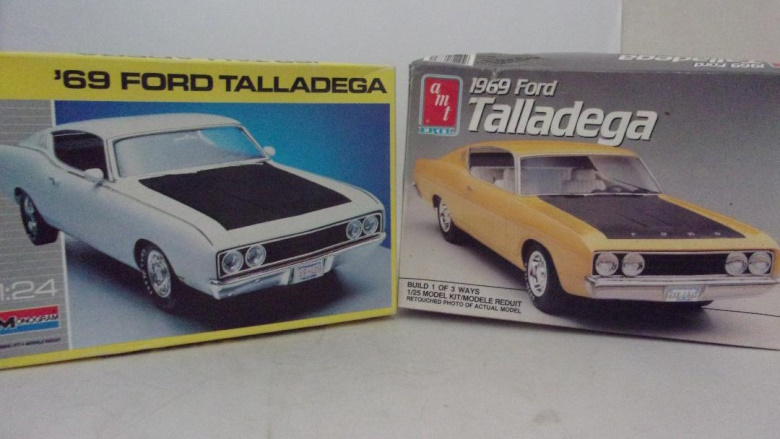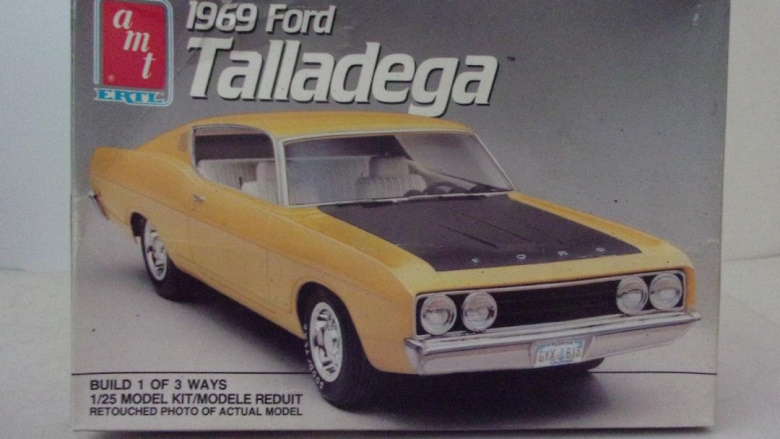 Jim Amado
---
---

The Best Little Show No One Knows About
That is how Gary Wallace describes the model show which is more commonly called the Fulton model car show. For those who may not know, Fulton is located in northern NY State, approximately one hour above Syracuse. But don't go there to find this show, because it isn't there. "The best little show no one knows about" grew so big that it had to be moved to larger quarters, so perhaps Mr. Wallace is wrong in his assessment.
Who is Gary Wallace? Truck modelers may recognize him as GW Trucks, a producer of high quality resin products for their hobby. What many may not know is that he has been an amateur race car builder and driver, and a long time scale model builder himself, having fared very well in model contests, especially the truck classes, for many years.
The Fulton Model Show, having enjoyed its twentieth birthday in November 2011, is his brainchild, and his baby. It seemed to many that model contests sponsored by some model clubs tended to favor their own members. Contestants not affiliated with the club which put on a show, didn't appear to be considered or judged according to their model's merits. Throughout the years this observation had been made by, and became a complaint of, several modelers at various shows.
Gary decided to do something about it. Teaming up with his brother-in-law, Dan, and a fellow model builder and friend, Jan, they began holding a show which they intended would welcome all modelers and treat each fairly and equally. The show includes a contest, display area for models not competing for awards, and a large vendor area. From the beginning, it was, and has remained, a fun show, bringing together talented modelers from Quebec, and Ontario, Canada, and several areas of New York State. In recent years, "the… show no one knows about", has drawn modelers from Vermont, Pennsylvania, Indiana, New Jersey, and Ohio. OOPS! Somehow, apparently people DO know about it!
While open to all types of scale model vehicles and equipment, and with 200 models entered in the "twentieth anniversary" show, and all types represented, this show has nonetheless become heavily truck oriented. I dare say it has become "holy ground" for model truck fans, and enjoys one of, if not THE, largest model truck attendance of any model show in the northeast. Notice the use of the word "fans", rather than "builders"; this because even those who may not actually construct truck models, will certainly find much to enjoy both on the contest tables, and the display tables.
The quality of the models is among the best one is likely to see. '50s era custom cars from Syracuse builders, huge off road work trucks from our Canadian neighbors, first time entries from young builders, and every other imaginable vehicle on the tables leave an observer thinking that he or she is walking through a museum.
In an adjacent room, there were approximately forty tables of vendors offering old model kits, parts, aftermarket details, accessories, and other model car and truck related "goodies".
For this, the "twentieth anniversary" show, in addition to the usual 1st through 3rd place awards in the seventeen categories, and the many special awards given annually, the team decided to do something which they hadn't done before. As was explained at the end of the awards presentations: with three judges, each may not always agree with the other two. Despite the usual consensus which results in a 1st, 2nd, or 3rd place award, there are times when one of the judges feels that a particular model "speaks" to him for a reason known only to himself. So this year, (adding to the fun factor previously mentioned) they handed out three unique prizes, each selected by only one judge himself: The "Gary Award", the "Dan Award", and the "Jan Award", each went to a deserving modeler, based on what the judge saw in the particular model he had chosen. This unexpected twist was well-received by everyone in attendance, and a good time was had by all!
Gary credits his brother-in-law Dan for much of the show's success, as a result of the hard work and effort he has invested throughout the years.
So where will this "best little show no one knows about" be found? Not far from Fulton, At the "Volney Fire Department Barn", in Volney, NY. Which, by the way, isn't a barn at all; it is a large, modern structure with two huge areas devoted to the Fulton Model Show, on the last Sunday before Thanksgiving, every November.
Get building! Then get out your GPS Navigation and find your way to "The best little show no one knows about"…see you there!
---
---
September 2022
Comments On "Scale"
I agree, as many do, that 1/25 is the preferred "scale" - though what we commonly use to describe models is not actually scale, but size. "1/25" simply means that a model is 1/25 the actual size...or, 1/25 of the size of the actual vehicle...or, one inch on the model equals twenty five on the actual vehicle. Although 1/25 was long ago determined to be the common size of automotive models, it is actually an odd scale. For example, the size that many of us do not like, 1/24, actually makes more sense. Otherwise known as "half inch scale", it translates to: one inch on the model equals 24 inches on the actual vehicle. Note that it is a nice even number; no fractions or decimals involved.
Early Model Kits
After WW II most models were made of wood, and were commonly in "1/2 inch scale" (1/24), or "3/4 inch scale" (1/16) [one inch on the model equals sixteen inches on the actual vehicle]; later, in plastic, "3/8 inch scale" (1/32) [one inch on the model equals thirty two inches on the actual vehicle] became popular. The early postwar kits of current and recent automobiles, and (mostly military) trucks were in 1/24 actual size. Models of antique vehicles were in both 3/8" and 3/4" scales.
"Promos"
Promotional model cars ("promos") were used to promote the sale of new cars, and actually predate model kits (which required assembly) by many years, the first having appeared around 1934.[It should be noted that prior to this, there were pressed steel "toy" replicas of cars and trucks, some of which were very detailed and used by auto manufacturers to advertise the vehicles they sold, as well as being intended as children's playthings.] However, the early promos were made of pot metal, and while painted in colors the actual vehicles were available in, in regard to their size, they were all over the place.
AMT, "Official Model Makers To The Industry"
For many years AMT (Aluminum Model Toys) touted their status as the "official model makers to the (auto) industry". Ironically, only their first offering, a somewhat generic '47/'48 Ford Fordor, was produced in aluminum; by 1949 plastic became the medium. While others continued to produce promos in pot metal until the mid '50s, AMT and PMC (Product Miniatures Corporation) began the plastic promotional model industry, and 1/25 became the "standard" size. PMC initially offered as great a variety of Chevrolet scale models, as GM offered full size Chevies! A lone offering from Cruver Manufacturing, an exceptional model of the '49 Olds, and in the mid fifties, several offerings from JoHan models all claimed to be 1/25 in size. Long time collectors will have observed that apparently different companies used different slide rules to arrive at the alleged "1/25" size. JoHan was particularly noticeable in varying size, some being smaller than 1/25, while others being larger, yet all listed as 1/25.
The Return Of 1/24
In the early 1960s, Monogram Models, a venerable company that had been producing model kits of various subjects, began offering car model kits, first of '30s era Fords, '55 Chevy hardtop and convertible, and later on various muscle cars and street rods in 1/24 actual size. While the subject matter was desirable, the proportions were not always pleasing to the eye. So, given the common acceptance of 1/25 "scale", and the sometimes disappointing appearance of the 1/24 "scale" models, as well as the abundance of subject matter in 1/25, it's understandable why many prefer it. However, sometimes if one likes a specific vehicle, and it is available only in 1/24 - or even a more obscure scale - a modeler will want it regardless, and will make it look great. Again, that "slide rule" thing exists; some times 1/24 and 1/25 parts will interchange, while other times there is a glaring, obvious, noticeable difference. We all have our preferences, and our reasons for those preferences. As we've all heard said: "beauty is in the eye of the beholder".
Jim Amado
---
---
July 2022
Real? Or Imitation?
Indy pace cars are often duplicated in limited numbers to be sold to interested members of the public, through the respective manufacturer's dealerships. Sometimes the pace car replicas closely resemble the actual pace car, while other times, if the actual pace car is modified to lead the pack on race day, the replicas sold by dealers may be somewhat different, either the engine, the body, or sometimes both.
For example, the '67 and '69 Camaro pace car replicas looked identical to the cars that actually paced the race in their respective years. The '76 Buick Pace car had a domed hood, while the "replicas", did not, and in '75 and '76 (Buick paced the race both years) the engines of the replicas were (understandably) not as potent as the actual pace car. In various years, Oldsmobile pace cars had their roofs opened up, or removed all together, while the replicas retained their closed steel "sedan" roofs. The 1990 Chevy Beretta Pace car shared the same fate.
Ford Motor Company supplied the 1979 Indy Pace Car, the then new Mustang. The actual pace car had T-Tops, while the replicas at Ford dealerships carried pace car graphics, they all had sunroofs.
Interestingly, other than the roof, the visual body mods worn by the actual pace cars were also shared by the replicas one could purchase from a Ford dealer.
The 1979 Mustang Indy Pace Car was represented in model form by both MPC in 1/25 scale (kit #0785), and Monogram in 1/24 scale (kit #2250). The MPC kit depicted the actual t-top pace car, while the Monogram depicted the sun roof equipped pace car replica.
Monogram also offered kit # 2260, which was the '79 Mustang Cobra with sunroof, and MPC offered the '79 Mustang which could be built as simply a hatchback, or as a Cobra, either one with the solid "steel' roof. The Monogram Cobra kit had "cast aluminum wheels"; the three other kits all had the optional TRX wheels.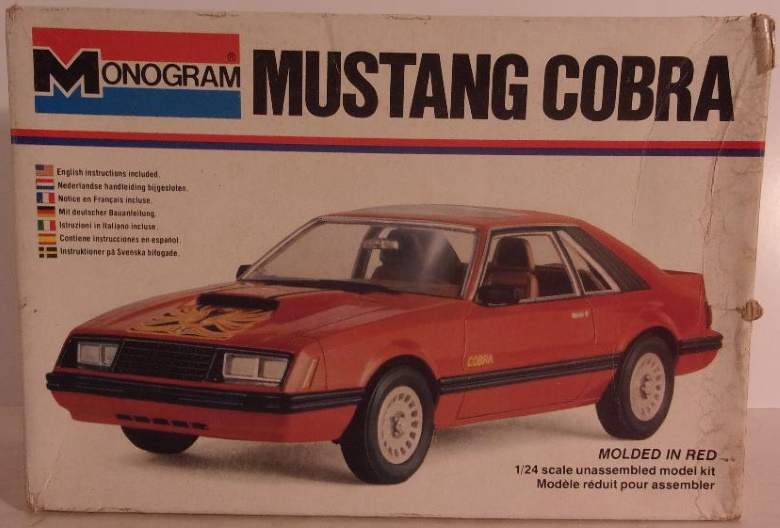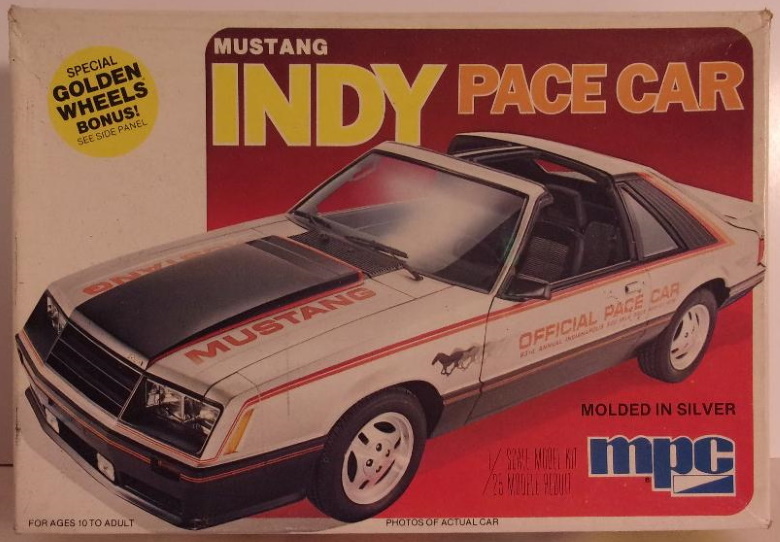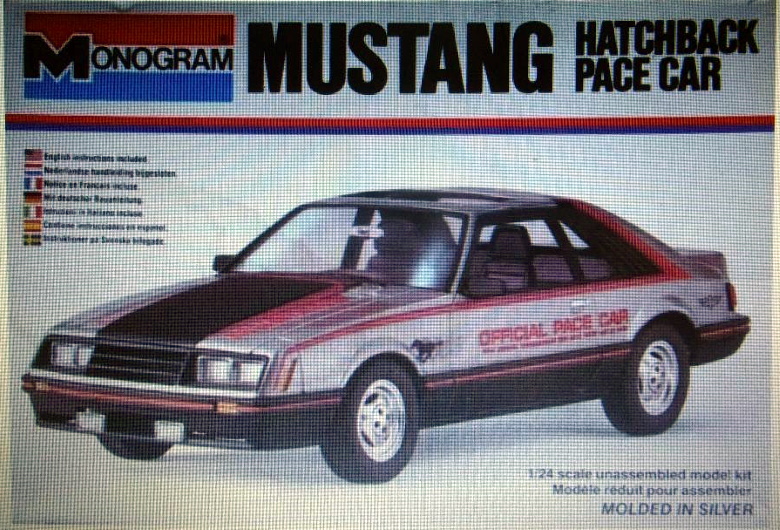 Jim Amado
---
---
May 2022
To Pace, or Not To Pace?
As we know, American auto manufacturers are honored to have one of their vehicles chosen to pace the famed Indianapolis 500 mile race. However, 1991's choice caused some controversy. Dodge was selected as the car company to provide the pace car. As is the practice, the company chosen, also supplies "official" cars and trucks for use in support of the race. While the support vehicles also represent the chosen manufacturer, the actual pace car is usually a top of the line performance car, or sometimes a uniquely modified vehicle.
For 1991, Dodge offered their then new Stealth R/T twin turbo, all wheel drive, 300 horsepower coupe, which was certainly adequate to bring the pack of Indy racers up to speed on race day. However, that choice caused consternation among the United Auto Workers Union, because the Dodge Stealth was in actuality a Japanese car, having been based on the Mitsubishi 3000 GT vr4.
This presented a quandary, because in 1991 the only other Dodge offerings were front wheel drive "econoboxes", none of which would have been suitable as a pace car. In a "stealthy" move, Dodge instead offered the not-yet-in-production VIPER as an alternative. The Viper R/T 10, still in gestation, was "on the shelf", intended to be introduced for sale to the public as a '92 model, and had a V10 engine with 400 horsepower. Thus, the May 1991 Indianapolis 500 race was paced by a Doge Viper, a vehicle which was not available for purchase to the car buying public until January 1992. The Viper pace car was truly an American car through and through, and was driven by an American "icon", Carroll Shelby, who was instrumental in its design and DNA.
How does all of this relate to we "model citizens"? Actually, with similar intrigue (though not an Oldsmobile). The Stealth being a new car in 1991, Dodge contracted to have promotional scale models made and in Dodge dealer's hands when the actual cars hit the showrooms. The plastic promotional models were available in red, with black roof, and in solid black.
Here's where it gets interesting. Since it was initially thought that the stealth was to be the Indy Pace car, the initial run of the promos [I don't know exact numbers] included Indy Pace Car decals (stickers, actually), while later ones did not (see accompanying photos comparing promo box ends).
When the plastic kits of Stealth models came out, kit #6956, "New '91 Dodge Stealth..." with the box art showing a red car with black roof, then later kit #6806, Indy 500 "official car," (not official "pace" car), depicted a yellow car with black roof on the box cover.
In '92, Stealth models were available as snap together kits, glue together kits, and promotional models. 1992 also saw models of the Viper: first the promo, then the kit (#6808). Sometime thereafter, the 1991 Indy pace car Viper promotional model became available.
As if to reinforce its American ethnicity, the pace car promo wore a subtle reminder, in a small American flag on each side of the targa bar (see photos).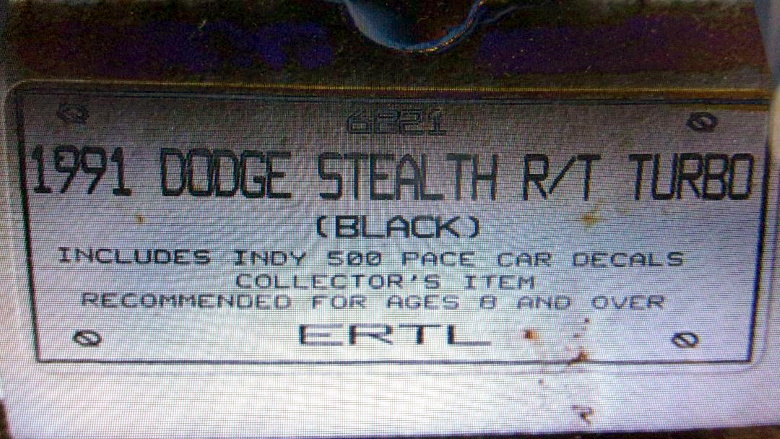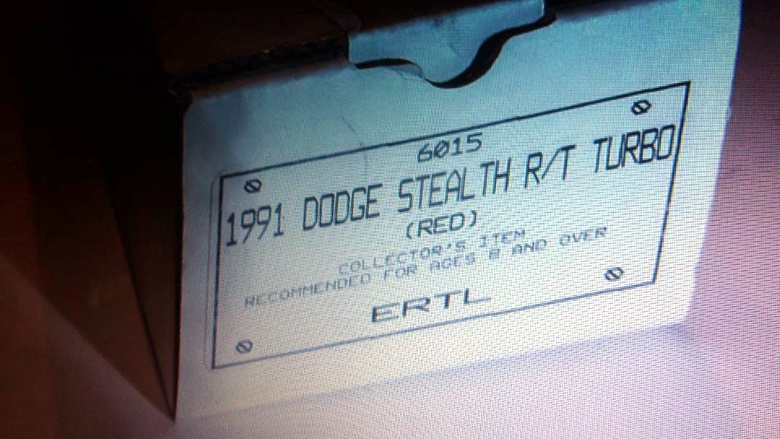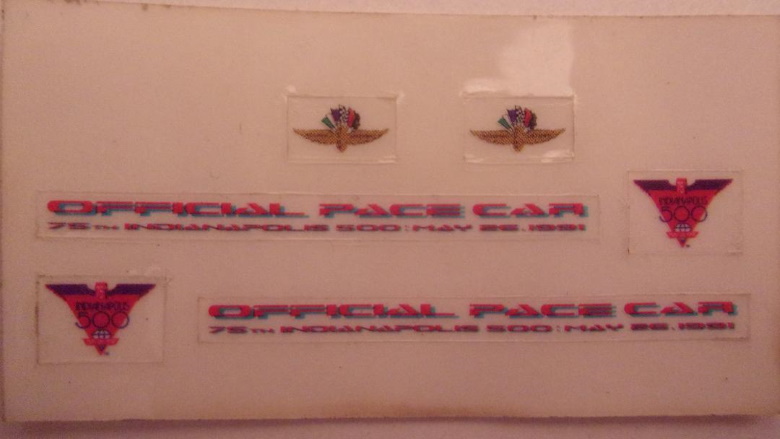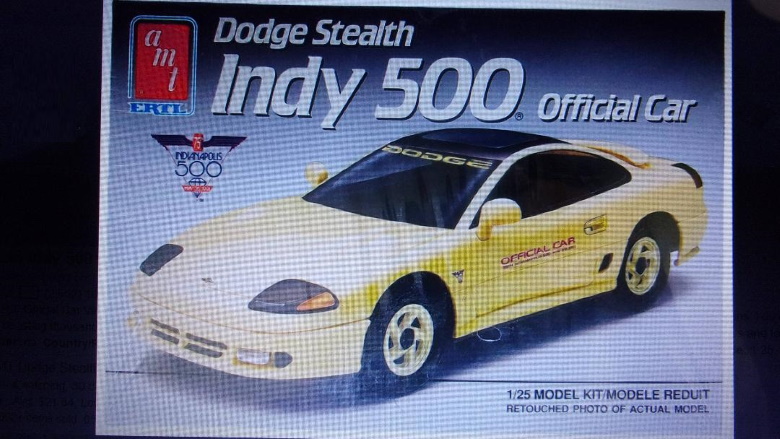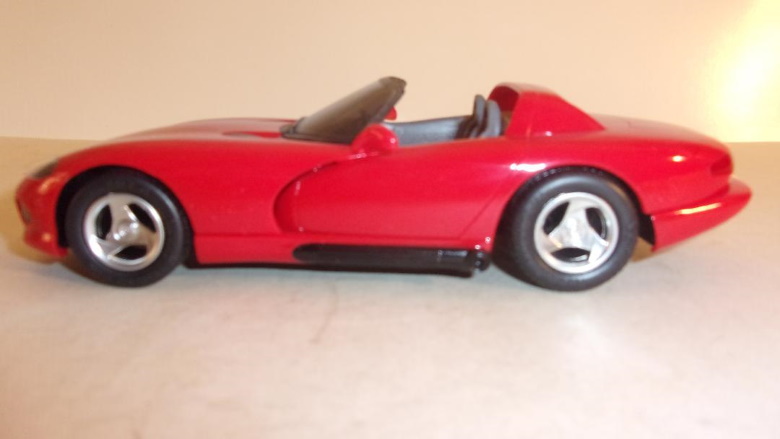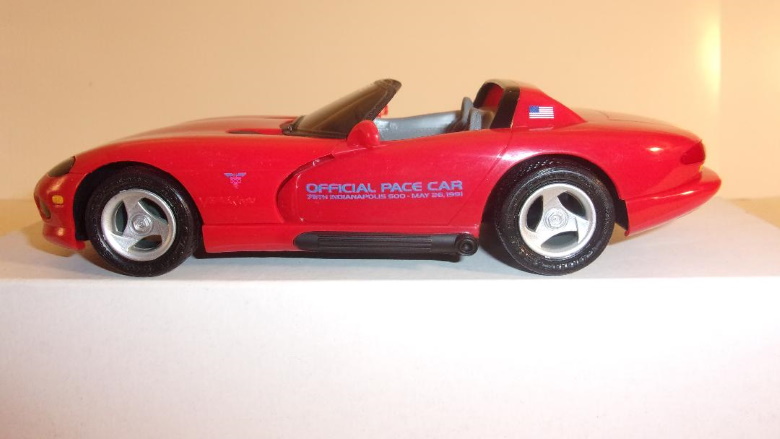 Jim Amado
---
---
July 2021
Atlantis
Atlantis (Model Company) continues to release some former Revell, and now former Monogram, kits under their own (Atlantis) label. In addition to the 1/48 scale (former Revell) White tanker and Chevy stake, there's the 1/25 scale (former Revell) '57 Cadillac El Dorado Brougham, and more recently in 1/32 scale the (former Monogram) '69 Chevrolet Nova, and '82 Camaro Z-28. Presumably these 1/32 models would be the same great kits they were in their previous lives, with detailed engines, opening hoods, and detailed chassis. They were, and are expected to be, quality, top level kits, despite their smaller size.
In addition, Atlantis now offers heretofore unavailable and non existent window glass for the 1/48 scale White and 1/48 scale Chevy truck kits. While "glass" is included in the Chevy stake truck kit, it was not in the White tanker kit, which was released before the Chevy. Apparently window glass for either kit is now available separately. Atlantis also suggests more vehicle kits are planned for future release.
Jim Amado
---
---
February 2021
Deceit Is In The Eye Of The Beholder
I have long maintained that box art can either make or break the sale of a model kit. Some of us have walked away and not purchased a kit because of the box art; others of us have purchased a kit and been disappointed upon opening the box. Misrepresentations, in my opinion, are inexcusable. There is enough reference material available that it should be no problem to provide an accurate depiction of the vehicle that the model within the box represents.
The most recent model box I take issue with is the 2020 Atlantis (model company) re-release of the former Revell 1/48 scale 1955 Chevrolet 2 ton stake truck. Were I unaware of happenings within the model industry, and had I seen the model on a store shelf, I may have immediately been drawn to it, and considered purchasing the kit. At first glance, not only a new company, but possibly a new kit? Why might one have thought that? Because the illustration on the cover misrepresents the model within the box! Depicted on the cover is a'55 Chevy LCF (low cab forward) truck which, as the name implies, has its cab moved forward, in order to accommodate a longer, thus larger capacity, cargo bed on the same length chassis.
However, the model kit is actually the same conventional cab Chevy model that Revell produced in 1955, and a few more times since then. Note the illustrations of the trucks in the accompanying photos. The green (Revell) illustration shows the cab with the door lines parallel to each other, opening behind the fenders, and the engine hood is lower and longer than the blue (Atlantis) illustration. The Atlantis cab doors are arched at the front edge to (give the erroneous appearance of) opening around the rear of the fender, and an LCF would (correctly) appear to have a taller hood, because it is shorter than a Conventional truck's hood; but the model is not an LCF.
Again, if one were not aware that the Revell kit has been reissued by Atlantis, the misleading box art may cause one to presume that it is a new model kit, representing a truck which had not previously been available in scale form...until or unless one looked at the accurate depiction on the side of the box.
Interestingly, the new Atlantis model employs the same kit number as the original Revell kit: # H-1401. In spite of its misleading box cover illustration, '50s era "technology", and multi piece body, it's a nice kit, and a good representation of the '55 Chevrolet conventional 6409, two ton stake truck.
Jim Amado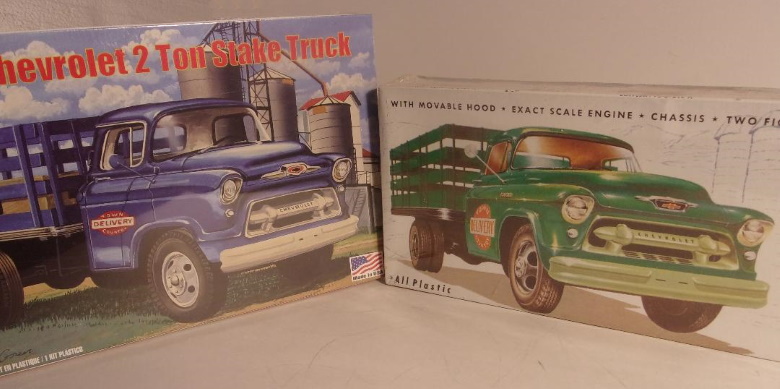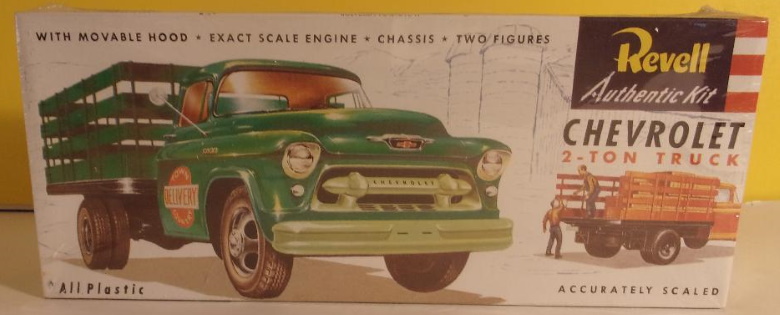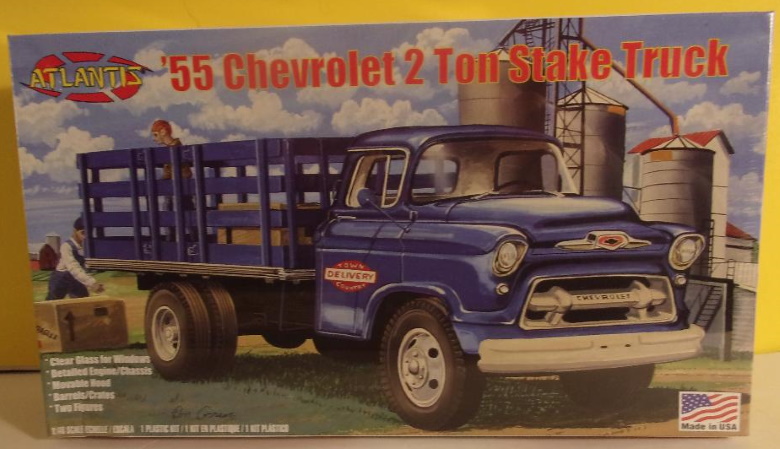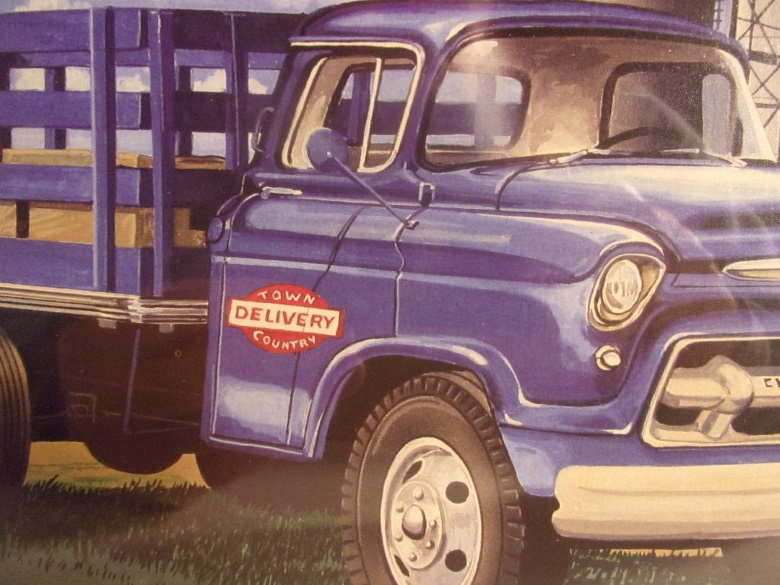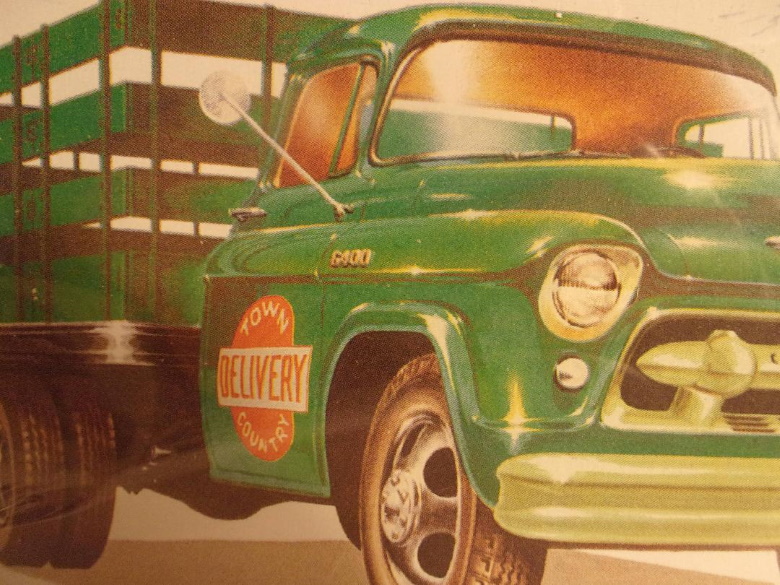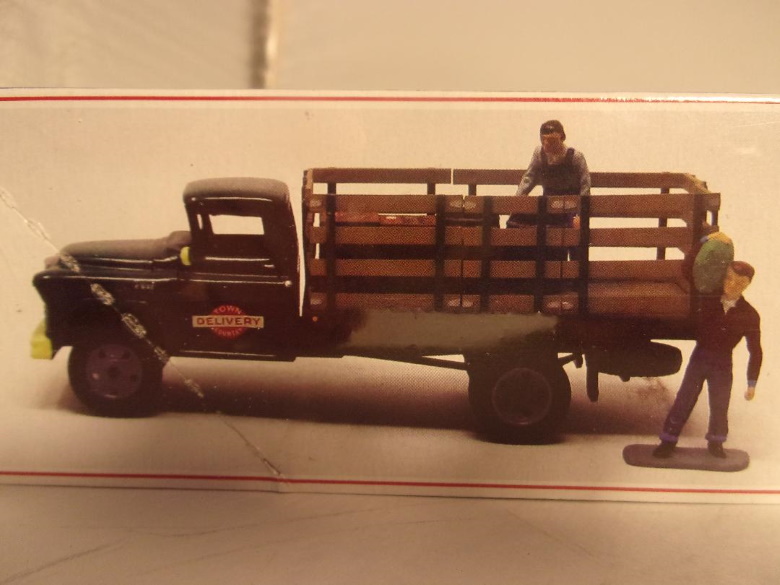 ---
---
August 2020
Printed magazines continue to cease production as more of them become available on line or on electronic devices. Kalmbach Publishing has recently announced that the final issue of Scale Auto Magazine will be the August 2020 issue. Kalmbach offers assurance that model car fans will soon find a section for them included in Fine Scale Modeler Magazine.
Presumably, since it covers various types of modeling, there is hope that Fine Scale Modeler itself may endure for some time, though the duration, like the future, is unknown.
Uptown Automotive has a vast inventory of back issues of several automotive model magazines. Send us your wants.