Updated September 16, 2019
Sometimes scale model cars may have little details which go unnoticed, or differ between two models of the same car. Personally, I have at times just happened upon these little details, while other times I have actively sought them. But in order to seek them, one has to first know they exist. Here a few which may pass unnoticed.
As diehard car enthusiasts may recall, some of the auto manufacturers dabbled (unsuccessfully, it turned out) with air suspension the 1950s. Among others, both Chevrolet and Ford in 1958, offered air suspension. Ford called their system "Ford Aire", and it was available only on Fairlanes and wagons. Few cars were actually made with the problematic system, and by 1959 it was no longer available.
Chevrolet called their system "Level Air", and continued to offer it as an option into the 1959 model year. From the Chevrolet sales literature I have seen it is believed that the option was available across the entire line.
The 1/25 scale PMC Promotional model of the 1959 Ford Country Sedan station wagon has "Ford Aire" in raised letters on the lower right hand corner of the tailgate. When I first saw it I thought it referred to air conditioning. Later I learned that it referred to Ford's air suspension. While I have seen some reference to the system listed as 1959, as stated previously it is believed the system was discontinued in 1958.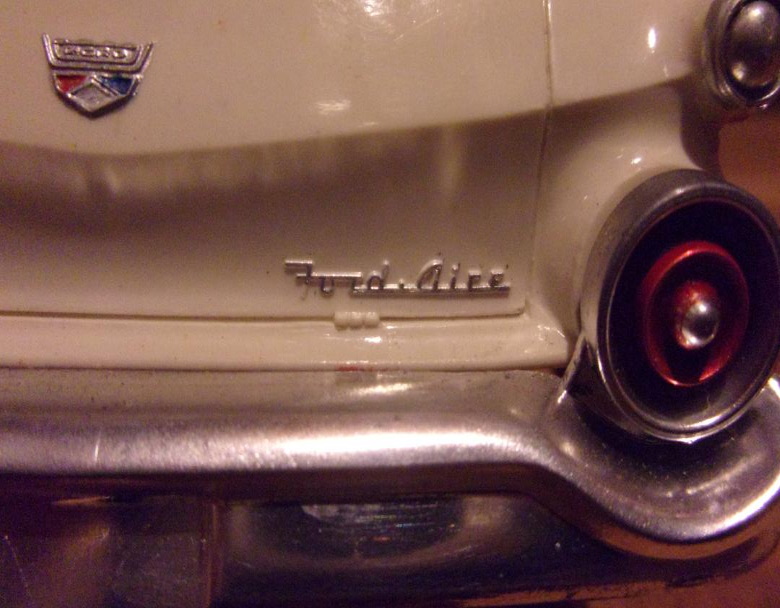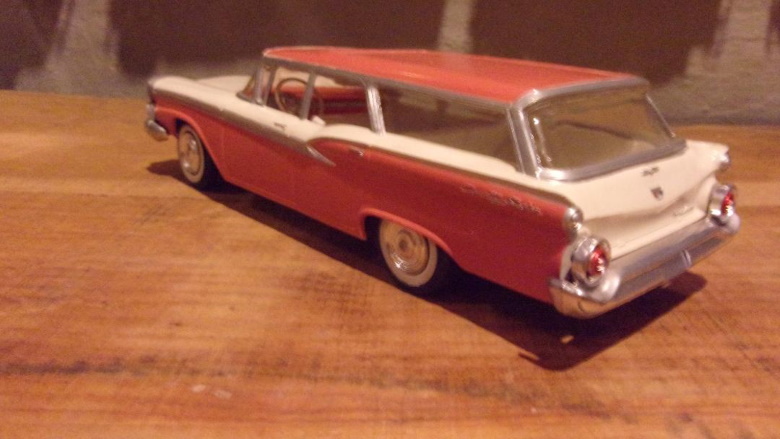 So, is this an error on the '59 promo? Maybe. But...when I was younger, and there was a discrepancy between a scale model and the real vehicle (like the '68 AMC Ambassador convertible, and the '76 Corvette convertible scale models), I thought that the model company made a mistake. This was confusing, as the model manufacturers worked hand in hand with the auto manufacturers to make the scale models. As knowledge of the hobby increased, it became known that it was more likely that the auto manufacturer had made a change to the actual vehicle(s) after the scale model designs had been completed, and production begun. This happened because "in the old days" the auto manufacturers wanted the promotional scale models in their showrooms when the actual new cars arrived there.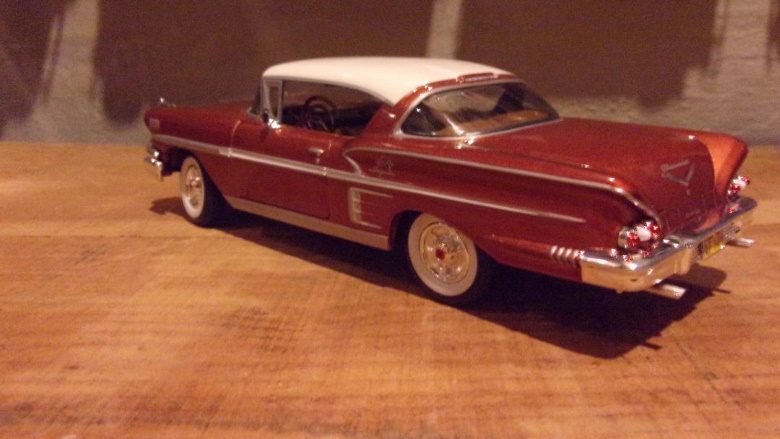 The 1958 Impala die cast model, labeled as 1/24 scale, has "Level Air" printed on the panel above the bumper. This model was offered by Classic Metal Works. While it's possible that there are others, these are the only two models which I am aware of, that indicate that they have the option of air suspension.

The early Pontiac GTOs were not yet actually specific models themselves; instead one could order a LeMans with the GTO option. While there are various scale models of Pontiac GTOs, we'll discuss some of them at another time; our focus here (is not a Ford) is on a '65 GTO, labeled as a 1/24 scale model, but actually closer to 1/26 or 1/27 actual size, and which is a "Hurst GTO". It has a decal - virtually impossible to read, but believed to say "Hurst Equipped" - on the trunk lid, Hurst mag wheels, and a Hurst "Dual Gate" shifter in the interior. This GTO model is made by Welly.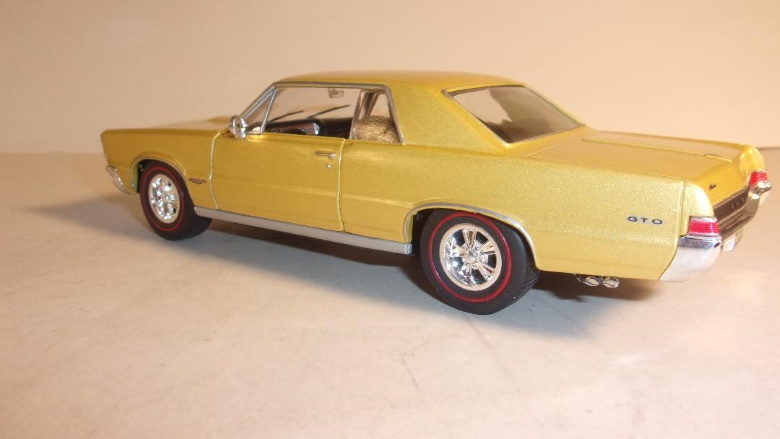 Classic Metal Works offered the '66 GTOs pictured below, and listed as 1/24, but actually are 1/25 scale. Both have Pontiac Rally II wheels, and look virtually identical, but the black one replicates a "Royal Bobcat", a GTO fine tuned by Ace Wilson's Royal Pontiac, Royal Oak, Michigan, a dealership which in the '60s was a high performance Pontiac specialist, sponsoring (and campaigning themselves) some potent Pontiacs. The model has a "bobcat" decal on the sail panel or C pillar.


'66 GTO: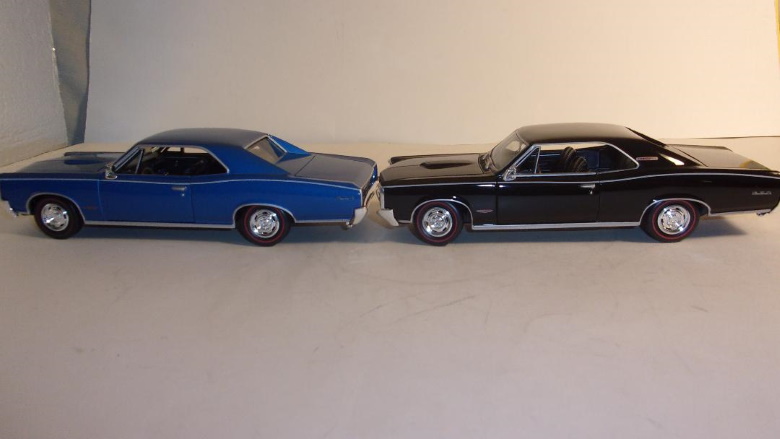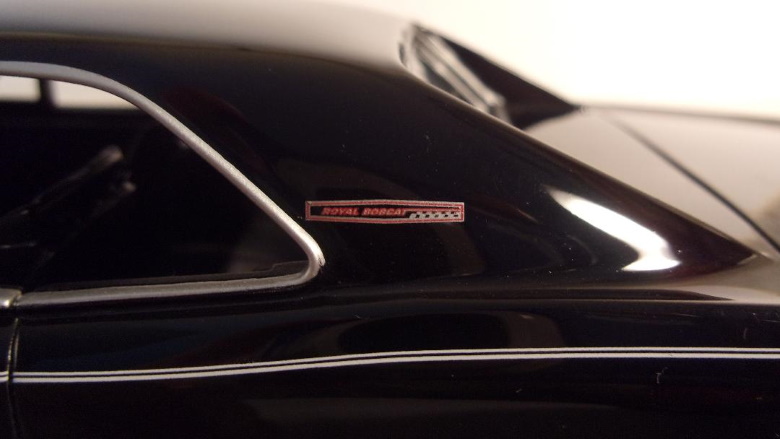 Lastly, here's one anyone can do with plastic models of the '55 Corvette. As most know, '55 was the first year for a V8 being available in the Corvette, at Zora's insistence. Legend has it that more six cylinder Corvettes were sold in 1955 than V8s. The only visible external difference was an oversized, gold "V" in the middle of the chrome "Chevrolet" logo on the front fenders. (See red Corvette in photos below)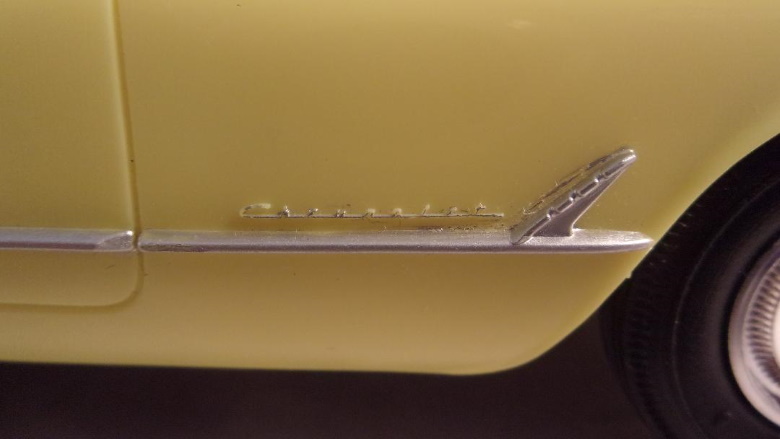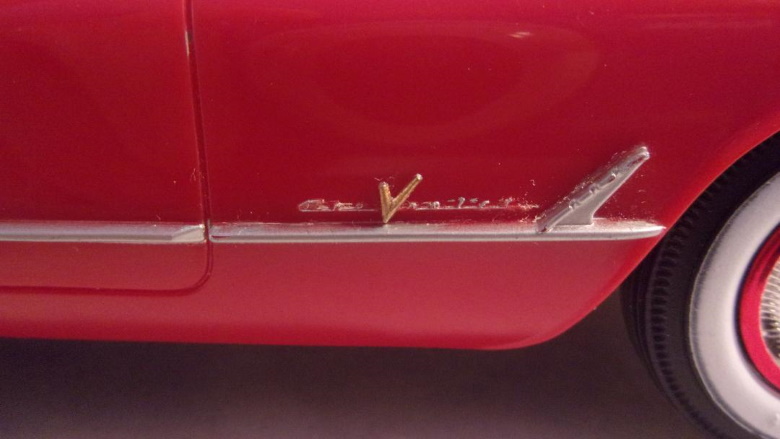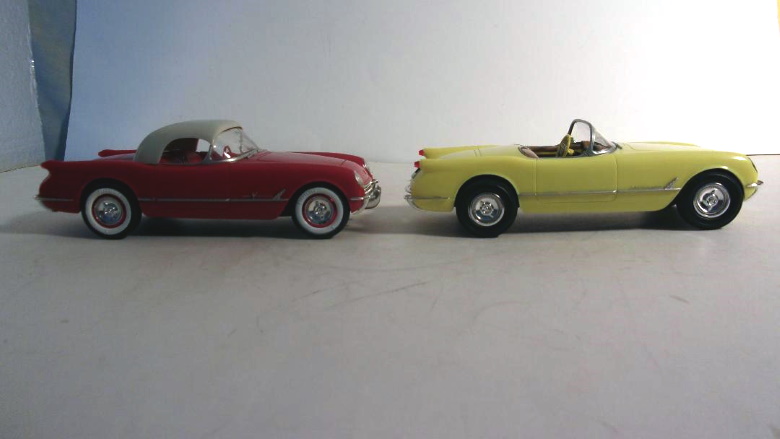 The red '55, pictured above, sports a representation of an aftermarket removable hard top. It is unknown how popular this would have been in the early '50s, or even in what specific year it became available... and if the aftermarket offering the product may have influenced GM to offer such an option on the '56 'Vette. Remember, during the first three years of production the Corvette lacked roll up windows, and came only with a soft top.